Classes
Knowledge Base Main
Classes are a major part of hex life! If you're interested in learning more about classes such as what they are, how to take them, or even how to get the school supplies that you need, then keep reading!
How do I register for classes?
In the left side menu, click on Registration:

Alternatively, you may register from the Classrooms page:

You may register for as few or as many classes as you wish. Simply click in the box next to each class to register for that class. Near the bottom of this page, you will see an option to receive an event notification anytime your teacher posts a new lesson. Once you make all your choices, click submit. There is no punishment if you do not do the lessons for all the classes and you can choose to complete only the lessons you want to do. You may edit your class choices at any time throughout the school term via this page: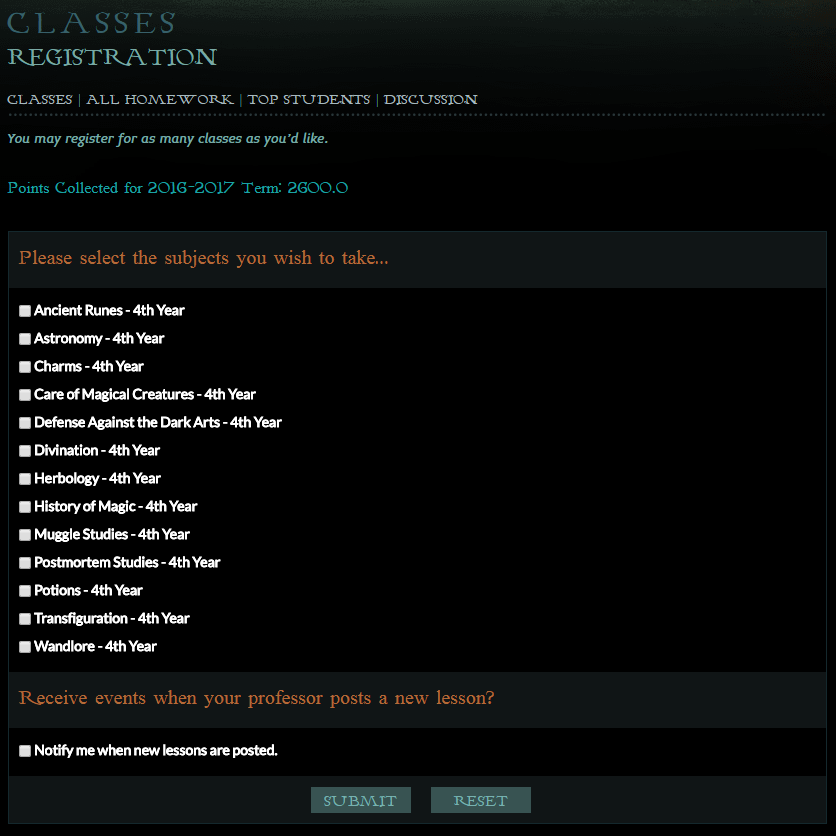 Where do I get my school supplies?
You may find a list of schools supplies and where to find them in the Welcome Center. Most of the school supplies can be found in Diagon Alley or in user stores. If you are having trouble affording your school supplies, there are links to House book drives at the bottom of the Welcome Center list. School supplies can be kept in your inventory, School Bag, or trunk if you're in a dorm. You must keep the supplies to be able to access lessons.
Where are the classrooms?
Once you have registered, click on the Classrooms link in the left side menu to go to the Classes page.
There are two columns on this page. The left column contains the name of your class as well as the name of the professor and the teaching assistants. You will also see a list of required school supplies listed under each class name. If the required items are in red text, that means you do not own that item and you must get it and put it in your inventory or school bag before you can access the lesson. You may find a list of course books and equipment in the Welcome Center.
The right column contains the name of the current lesson, a link for make-up homework, and the status of your current lesson. Once you have completed the current lesson, the red 'incomplete' will change to a green 'complete'.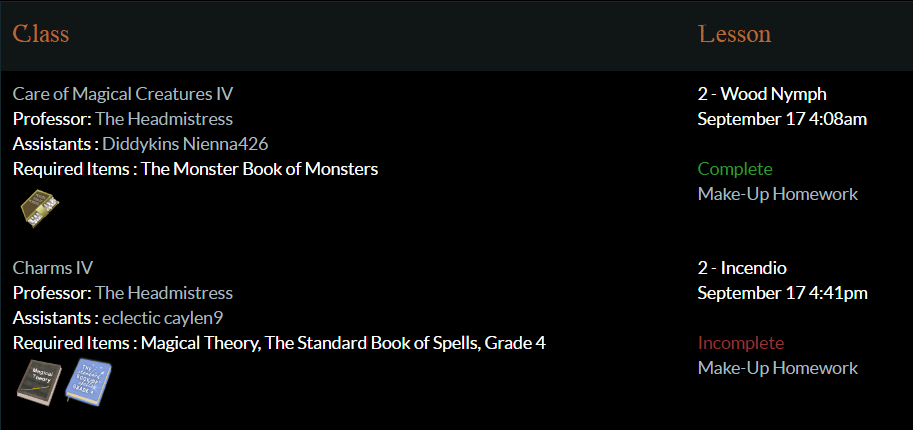 How do I see the lesson?
On the Classrooms page, click the name of one of the classes. This will open up the lesson page for that class, where you will see the homework questions and a text box for submitting answers. To access the reading material for the lesson, click LAUNCH LESSON. This will open up a new window. If it doesn't open up you should make sure your browser allows pop-ups. All answers to your homework will be found in this provided reading material.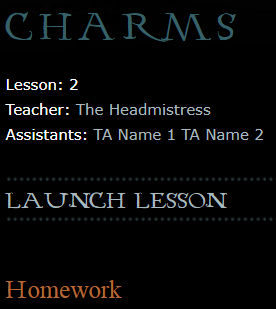 How do I submit my homework?
Type the answers to your homework in the text box provided on the lesson page for that class. Do not put your username or House on your homework. Once you are finished, check the box to indicate that you have finished your homework and are handing it in. If you forget to check this box don't worry, a notification will pop-up to ask you if you're handing it in. Next, click Submit Homework. After you submit your homework answers you cannot get the homework back or make changes, so be certain you have completed your answers before clicking submit. It is important to note that if you are going to take more than an hour to complete a homework lesson, it is recommended to use a word processing program where you can save your homework on your computer, as you will be logged out of HEX after an hour for security reasons. If you try to submit your homework answers after the hour time limit your work will be lost and you'll have to start over.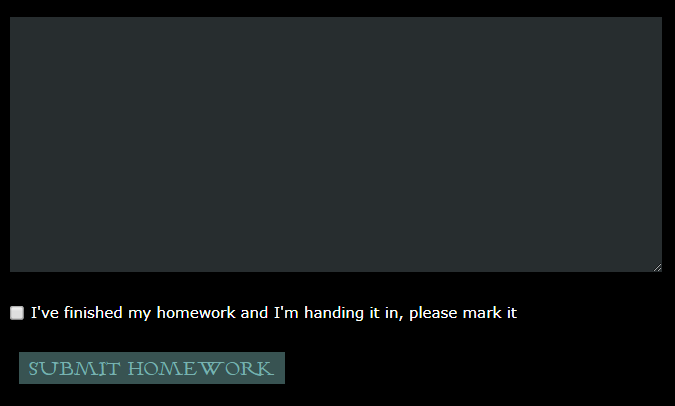 How Do I Complete Make-up Homework?
To see what lessons are available in a subject, click on "Make-Up Homework" in the right column of the of the Classrooms page: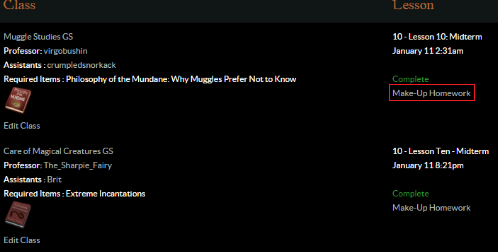 This will open up a list of lessons available for partial credit. To do a make-up assignment, click on the lesson title you would like to complete:

From there, the class page will appear with the LAUNCH LESSON link. Complete the lesson as you would regular homework.
Make-Up Homework allows users the opportunity to earn partial House Points for lessons they missed. This is to help users reach the minimum number of points required to move up a little bit easier. At any given time, you should be able to access up to twelve (12) previous lessons for each subject. To keep things fair for those who turned in their homework on time, for each lesson that you turn in as make-up homework, you will be docked 0.5 points for every two weeks that it is late. For example, if the current lesson posted is Lesson 10 and you do the past homework for Lesson 9, you can only receive a maximum of 9.5 points for Lesson 9. If you were do to Lesson 8, it would be worth 9.0 points maximum.
What are the basic homework rules?
Although the basic rules are the same, there may be specific rules pertaining to each class. Be sure to read the rules for every class. When taking classes and completing homework, please adhere to the following rules:
1. Do not put your username or the name of your House on your homework. The system will know that the homework belongs to you, but the teaching assistant grading it won't. That way, no special favors can be given to friends or Housemates. Everyone gets the same treatment.


2. Keep your homework responses HEX appropriate. If you're not sure what that means, be sure to check out the site terms.


3. Be sure to do your own work. When a teacher or assistant sees two or more homework submissions that are the same, they may report you for cheating or sharing answers with another user. This may result in a warning, or even your homework points being reset.


4. All questions must be answered with information from the lesson (unless otherwise specified).
How can I see my homework grades?
When your homework is graded, you will receive an event showing your score along with the name of your class. Once you clear these events, you can still access this information anytime you want. Just click on the Classrooms link on the left-side menu, then click on the All Homework link. This will show you a list of lessons completed, the House Points you were awarded for each lesson, your total House Points from homework, and lessons waiting to be graded: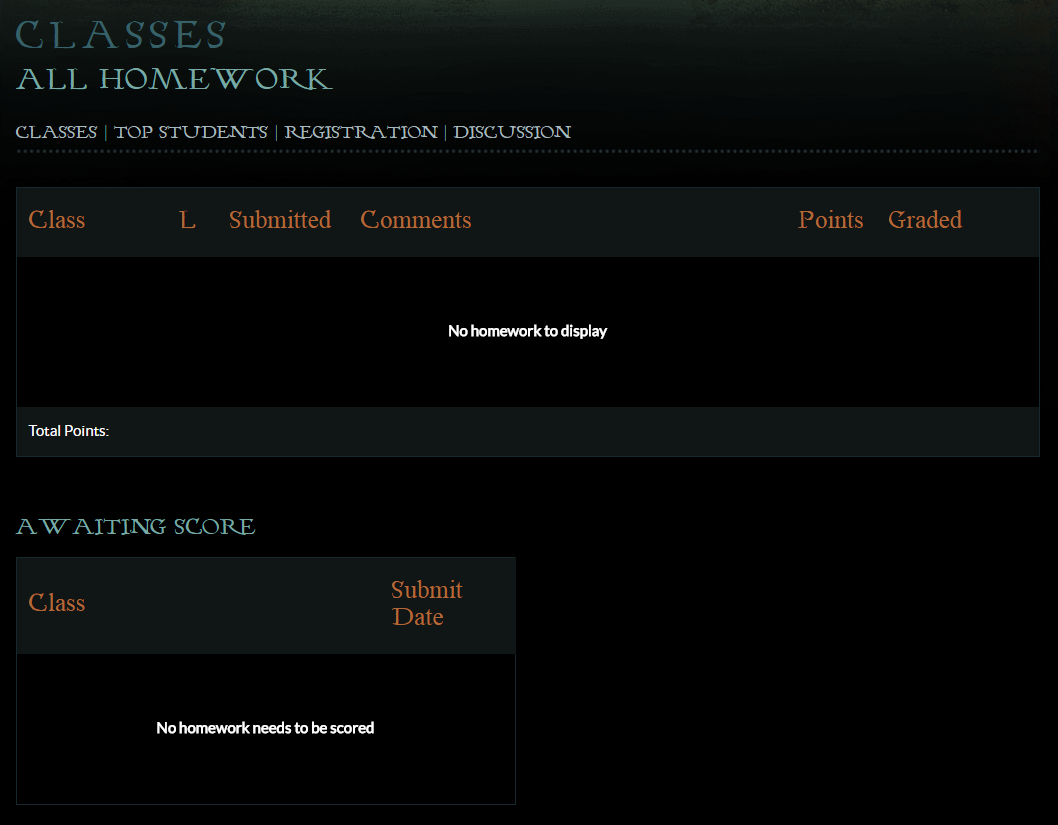 Where can I find the discussion forums?
In the left side menu, click Headmaster's Study: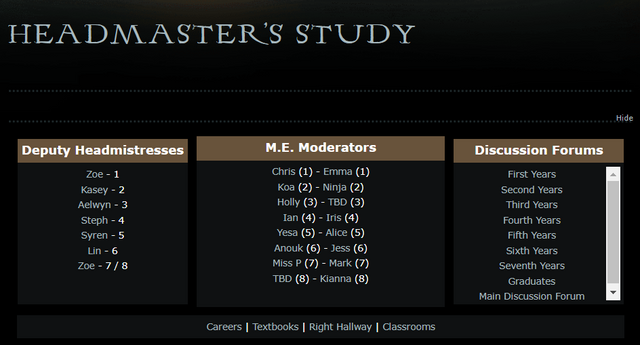 Once there, from the Discussion Forums list of links, click on your year level to go to the forum which has a thread for each class subject. Click on a thread to chat or post questions, comments, and concerns.
The Magical Education moderators are listed by year level in the Headmaster's Study.
How many Homework Points do I need to move up a year?
In order to move up a year, users in their first through seventh years need 650 homework points! Graduate students need at least 850 points from homework in order to earn their career. This is easily achieved by doing your homework throughout the year! Year move-ups take place sometime in the end of August each year, right before school term starts. School terms occur between September and June which gives you most of a year to earn enough points!
How can I see the Top Students list?
Click Classrooms in the left side menu, then click the Top Students link on the Classes page. The Top Students list shows twenty-five students with the most House Points from homework in each year level. In the case of there being more than twenty-five students with top point scores, the list will show twenty-five random users which will change upon refreshing.
How do I read my textbooks?
The item textbooks that you are required to buy to participate in classes are not meant to be read for classes. However, there is a textbook link included in each posted lesson. Clicking that link will allow you access to all reading material for previous lessons in that subject.
What are careers and how do I earn one?
Once a student successfully moves up through all seven class levels they are eligible to take graduate classes. Not only does this mean they can still support their House by earning House Points, but there is the added bonus of earning a wizarding career!
To be awarded a career, the student must take classes specific to that career as well as earn 850 House Points from homework with part of them being from the required classes for that career.
Careers available vary from year to year and each career features unique perks. For an example of the types of careers offered, check out this post in the Entrance Hall.
Can I take summer classes?
Summer classes have been available since 2017, with galleons being awarded instead of House Points. Watch the homepage for announcements regarding availability for future summer classes.
Back to Top
Do you still have questions?
Please be as descriptive as possible, and a WC mod will get back to you as soon as possible.