Careers
Knowledge Base Main
Careers are an integral part of the graduate program here on HEX. As careers develop and new ones are added, information will be added to this page.
How do I earn careers?
After completing seven years of schooling on HEX, users become graduate students and are able to earn careers. At the start of the school term, graduates will be asked to choose a career from a list of those available that year. Graduates must then earn at least 850 points through homework to be eligible to receive their career once the term is over. Careers will not be handed out until after the conclusion of the school term, regardless of when 850 points are earned.
How many careers can I have?
Graduates can only earn one career per term, but there is no limit to how many they can earn overall.
Regardless of how many careers a graduate has earned, they may only have one active career at a time. This means that graduates must switch through their careers in order to access the abilities of each. However, there is no limit to how often a career may be swapped out each day.
What are the available careers?
Right now, there are eleven careers available to be earned:
Of those eleven, eight of them are coded for graduate use. These are denoted with an asterisk (*) above and the career name links to their page in the careers hub where you can read more about them.
What does each career do?
The abilities of each coded career can be viewed by going to the careers hub. This page is accessible to all users, regardless of what year they may currently be in.
To read more about each career and its abilities, click on 'learn more' below the career name. This will bring you to a new page with an in-depth view of the career, allowing you to view all abilities of the career as well as their limitations (should they exist).
How do I find out which career I'm currently studying?
To find out which career you've chosen to work on for the current term, head on over to the classroom page. The image below shows you exactly where to look for this information.

How do I change my career?
Once you have enrolled in a career, you are not able to swap for a different career later on - with one exception. When a newly coded career is released, users have been given the option to swap their current career for the one being released. This is subject to change in the future, however.
If you have earned multiple careers, you are able to cycle through them in the careers hub. To do so, click on the switch button as given in the example below:
Once you click that, you will see a pop-up like this: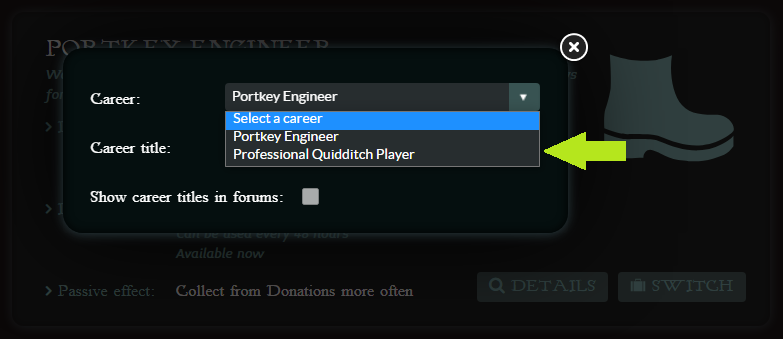 Click on the career that you would like to switch to, then click anywhere outside of the pop-up box. (Refer to the highlighted section in the example below for a visual.)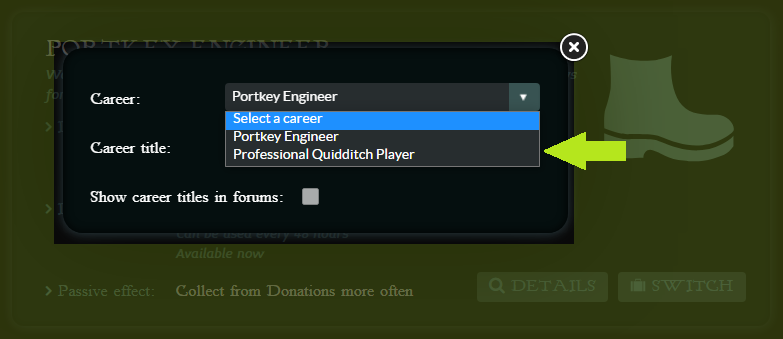 Once you have clicked out of the pop-up, the page will refresh and show your newly selected career on the screen.
Why doesn't my career title show up?
Career titles must be unlocked before they will display. Graduates can work toward unlocking their title by using the active actions of each career. Active actions are those that require one to interact with the item assigned to each career, rather than those that happen automatically.
For example, a Portkey Engineer must use the 'Worn Out Rubber Tire' item to create portkeys across the site. Each use brings them closer to unlocking their title. However, utilizing the action of this career that allows users to collect items more rapidly is a passive action. This means that doing this will not count toward unlocking the title.
Titles are randomly unlocked. Each use of an active action brings a user that much closer to unlocking their title. However, there is no set number of actions that must be completed in order to receive the title.
Additionally, once a title is unlocked, you must select it in order for it to display on your userinfo. To do this, go to the careers hub. From there, when you click the 'switch' button, a pop-up will appear. In the pop-up, you will be able to see all unlocked titles available for a career. If you have the title unlocked, it will appear white in the list. If it is still locked, it will be grayed out.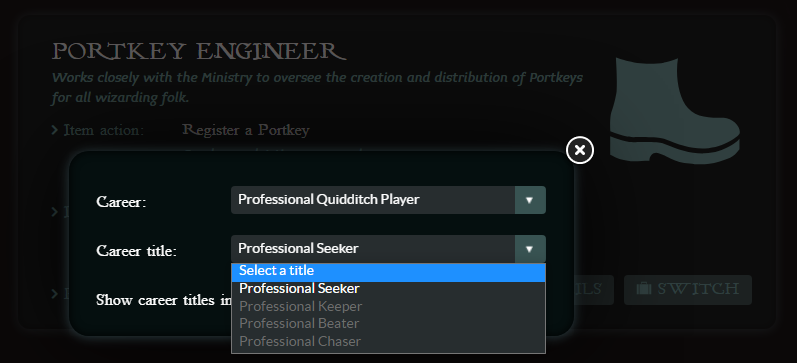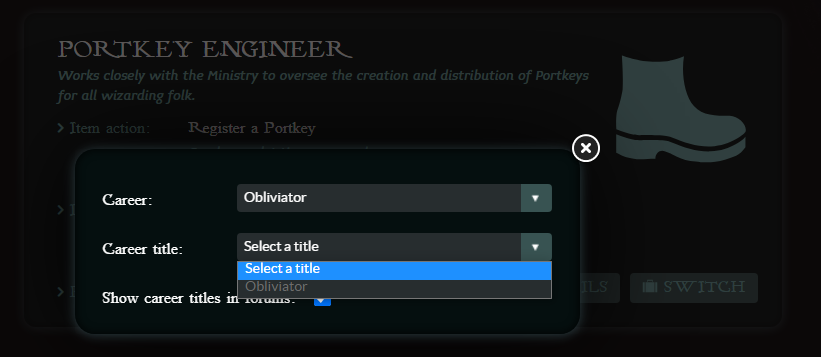 To apply a title, click on the title from the drop-down menu, then click out of the box.
How do I know when a career is released or updated?
There is a central thread in the Headmaster's Study where users can follow along with careers. This thread can be found here, and is aptly titled 'Careers'. The first post is updated with links to new information and updates, as well a list of frequently asked questions located in the pinned post.
Who do I contact if I have questions about my career?
If you believe you have earned a career and have not received your items or have questions about which careers you have earned, please owl Zoe.



Do you still have questions?
Please be as descriptive as possible, and a WC mod will get back to you as soon as possible.