Account Basics
Knowledge Base Main
Can't find the info you need? Check out the Index for topic links!
Your Account: Things You Need to Know
Health, Magic & Money
This information can be found at the upper left corner of your screen: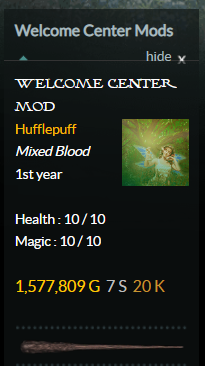 Health
You can lose Health Points by getting pranked, or sometimes at the Vending Machine, or The Cave. If they reach zero, you will not be able to post, use the Vending Machine, or visit The Cave. You may restore Health Points by visiting the Healer's Office in the Hospital Wing and clicking the top-right bed on the image map. You may visit the Healer's Office every two hours. The other way to restore health is by useing Healing Potions that you can buy at the Apothecary in Diagon Alley or in user stores. To find Healing Potions in user stores, use the Owl Search function in Diagon Alley:

You can also use the search bar at the top of the screen: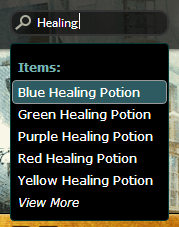 Magic
Casting spells from your Spellbook will use Magic Points. Once they are depleted, you will have to wait for them to replenish.
Money
By activating your account through e-mail, you are entitled to receive 30,000 starter Galleons. If you do not receive your starter galleons, please follow the instructions on the first post of this thread to address the issue.
If you'd like to learn how to make more Galleons, you should refer to this guide.
USER INFO PAGE
You can go to your user info page by clicking on your username, found at the upper left corner of the page. On a mobile device your username can be found by pressing the symbol which looks like a silhouette of a person's head on top of the page.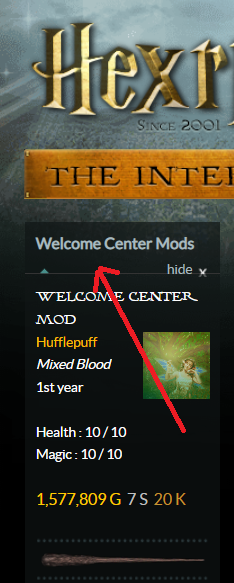 Profile
Your profile can serve as your personal webpage. You can put up anything in it as long as it is PG-13 and Hex Rules-compliant. All profiles start as a blank page. You can edit your profile by going to the MyHEX tab, upper left on your screen, and choosing Profile from the horizontal menu.
You will then be prompted to this page, which is where the information that makes up your profile goes: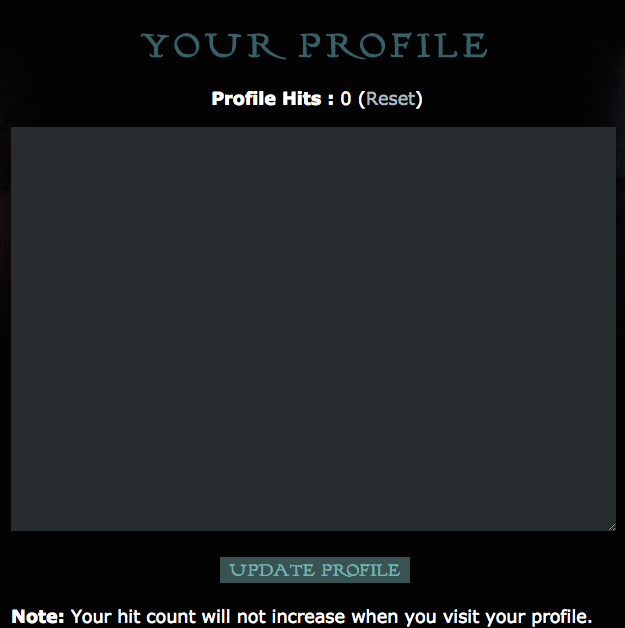 If you want your own profile, you'll need knowledge about HTML coding so you should go here: HTML/CSS/BBC Coding (Plus Q&A). Or if you prefer to have someone else do the coding you can go to the Magical Arts Forum.There are numerous Profile Stores where you can order your customized profile.
OPTIONAL FEATURES VIEWABLE ON USER INFO PAGE
Store
Fancy earning more galleons? Then put up your very own store and start earning those shiny, valuable coins! For more info on how to set up and manage your store, please refer to the Stores tab in the Knowledge Base. Access your store via the "Store" icon at the bottom of your User Info page.
Wizard Card Collection
The wizarding world would not be the same without the famous chocolate frogs and the wizard card that accompany them. Guess what? You can start your very own collection too! First, you will need to buy a Wizard Card Collection Book at Flourish & Blotts in Diagon Alley. To learn how to equip your Wizard Card Collection book and place your Wizard Cards in it, go to Wizard Card Collection Book in the Money & Items tab of the Knowledge Base. To view Wizard Cards in the Wizard Card Collection Book, click on the "Collections" icon at the bottom of your User Info page.
Trophy Case
Trophy cases are used to display our most prized possessions like gifts from our dearest friends, collections and rares. You can buy a Trophy Case at Luna's General Store or you can search for it using Owl Search. To learn how to equip and use this item, go to Trophy Case in the Money & Items tab of the Knowledge Base. One equipped, you may access your Trophy Case on your User Info page.
For detailed instructions on displaying items and collections, please visit the Money & Items section of the Knowledge Base.
User Info Page
This is how a complete User Info page looks: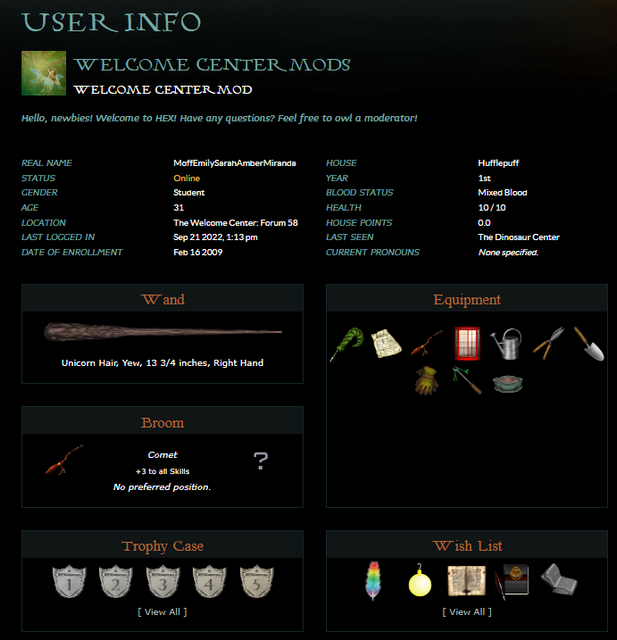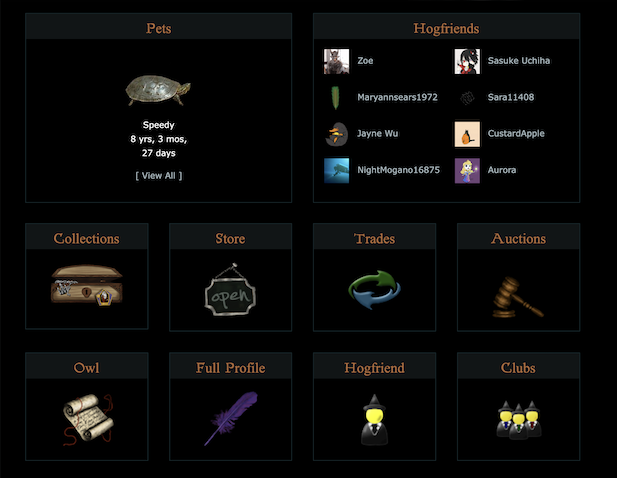 How do I add Hogfriends?
To send a Hogfriend request, go to the User Info page the user to whom you want to send the request by click on their user name. Scroll down to the Hogfriends icon, click on it, then confirm that you want to send the request. If the user accepts your request, they will then show up on your Hogfriends page.

You may also send requests via your Hogfriends page, if you type in the user name at the bottom of the page and click Submit. Access your Hogfriends page at the Hogfriends icon, upper right, next to the LOGOUT button.

To accept or decline a Hogfriend request, click on the request event notification to go to your Hogfriends page, scroll to the bottom, check the appropriate box, and click Submit.
Where can I view Hogfriends online?
You may view which Hogfriends are online by clicking on the Hogfriend icon, upper right, next to the LOGOUT button. You may also view Hogfriends online if you own a Marauder's Map or Elite Maurader's Map and have it equipped.
PG-13


What does it mean that HEX is a PG-13 site?



On January 20th, 2011 HEX became a PG-13 site after discussing the matter. That means it is generally for ages thirteen and up - more things are allowed that were not before when HEX was a PG site. Because of this change a PG-13 Filter has been made - optional for users over 13. To enable this filter, go to My Hex -> Preferences and click to enable the PG-13 Filter.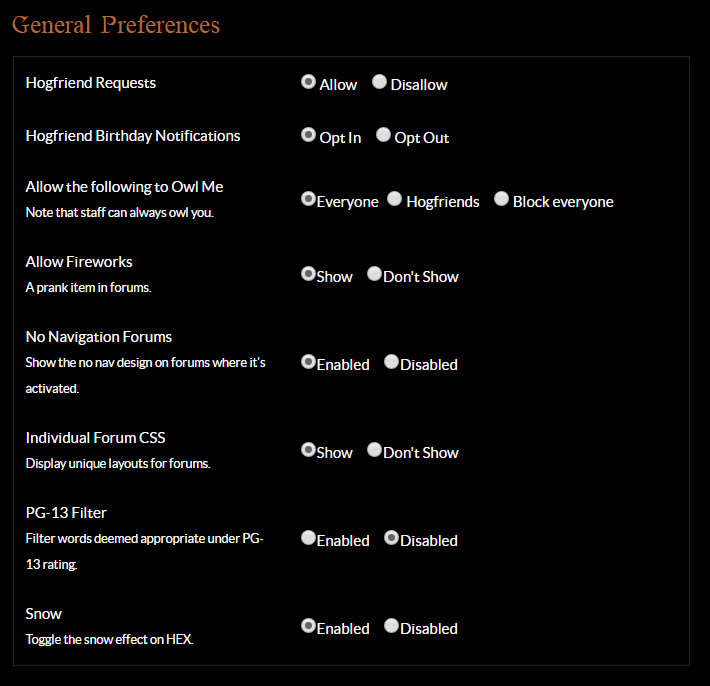 I am under 13, does that mean I cannot be on HEX?
You are free to be on HEX, but because HEX is a PG-13 site actions have been taken to protect our younger members. Users under the age of thirteen will automatically have the PG-13 Filter enabled - filtering out certain words inside of threads. However, the use of the filter does not censor some PG-13 content, users should be aware of this upon sign up.
MULTIPLE ACCOUNTS
You may only have one username/account on this site. Creating multiple accounts is NOT allowed. Anyone found with multiple accounts will be sent to Azkaban. Then, either be expelled, or have their inventory deleted, their money reset to ZERO, and all the multiple accounts will be disabled.
-My family member would also like to join Hex. We share a computer, would that be a problem?
Having family members that use the same computer on Hex is perfectly acceptable. However, it is your responsibility to let the staff know who is sharing your computer with you. You can do so using the Multiple Accounts Form located at the bottom of the page
-I didn't get sorted into the house that I wanted, so I made another account and the second account got sorted into the same house as the first! I want to switch houses! What should I do?
Creating multiple accounts is not allowed and is considered cheating. By making more than one account, you risk being sent to Azkaban, your galleons being reset to zero, your inventory deleted, and being expelled. You are, however, able to change your House by donating to the site. You must remain in your new House for three (3) months before being allowed to change again. For more information refer to the Donations page.
-If I can't get into the house I want, I might as well delete my account. How do I do that?
Once you delete your account you cannot make another account. If you still want to delete your account go to "My Hex -> Settings -> Account". Or you can click this link for a shortcut.
-I let my sister borrow my account and she posted swear words using my account and now I am in Azkaban!
You are responsible for everything that happens under your username. Because your account is your responsibility, you should take precautions to protect it. Never allow anyone else on your account and change your password frequently.
-I forgot my password/email/username.

In the event that forgotten passwords, email, or username occurs, contact us through the contact form (and choose "No" for the first question.) An Administrator/Staff Member/Global Moderator will NEVER ask you for your password. If someone posing to be a staff member does so, please report this to an Administrator or Staff Member. You can also use the 'Lost Password' link on the login page. From there you will be asked a few details about yourself to prove it's you, then your password will be sent to the email address connected to your HEX account. It's good to make sure your email address remains updated, for cases like this. Go to MyHEX, then settings, and check the correct email address is displayed. If you need to change this, owl a Global Moderator or Staff Member.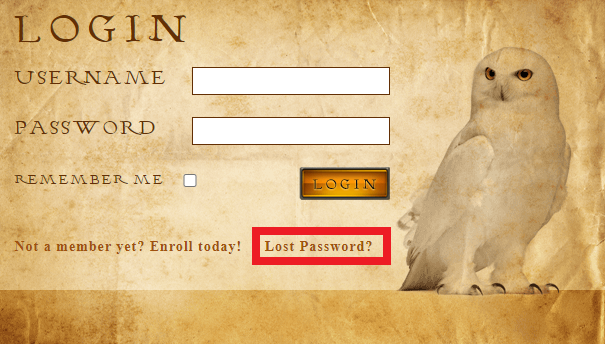 Display Pictures/Avvies
The image displayed under your username on the left side of your posts is referred to on HEX as an avatar. To set your avatar, you will need to have your avvie image ready to go, which means you have to find one first! You might choose to do an internet search for an image or you could go to the Arts and Graphics forum and request one be made for you in exchange for galleons. Another option is to go to the promote page and get a Hex official avatar. Click here to see those!
If you happen to find an avatar image on another website, you will need to make sure you have the direct link to the image, not the website. In some cases, you will need to save it to your computer and upload it onto an image-hosting website such as postimages.org, cubeupload.com, Flickr, or Giphy to get a url for the image. Just follow the instructions on those websites to upload.
Once you have done so, copy the direct link (also known as direct URL).
Now the rest is easy! Start by going up to MyHEX located at the top left of your page: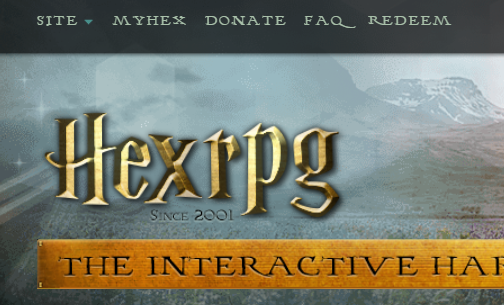 Once you are there, you need to click on preferences! Did you know you can change your ink color AND your avvie using this same page? Cool huh?

Scroll down on that page until you see something similar to this: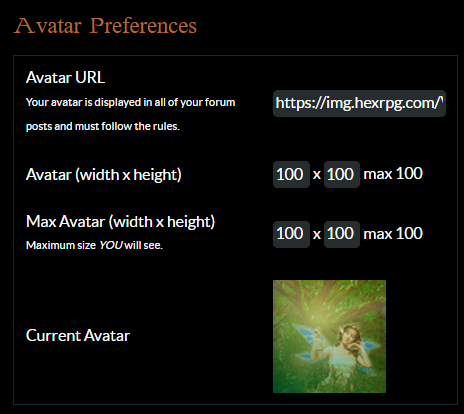 Make sure the size boxes say 100 x 100. Right click to paste the direct link to your image into the Avatar URL field. Avatar URLs must start with https, but you may choose to leave off the https protocol when pasting it in the Avatar URL field. If you do, the url link should start with // and end with .png, .jpg, or .gif . Scroll to the bottom of the page and hit 'Update Preferences' and you'll be good to go!

How do I get a random burst to appear under my avatar?
To make a random burst appear under your avatar, go to your MyHEX page. Above where the announcements are listed, you will see an area where you can type in text. Simply type in what you would like, as long as it abides to HEX rules. For some ideas, you can put a quote from your favorite song, movie, an advertisement, what you're feeling today, etc.!
Getting your own wand
You will notice on your user info page (found by clicking on your own username) that there is a section that lists your wand:

Getting your own wand is very easy! To do so, you will need to do what all witches and wizards did in the books once they had enrolled in Hogwarts. Go to Ollivander's in Diagon Alley! In the left side menu, under ECONOMY, seIect the link for Diagon Alley. Once there, click Ollivander's storefront on the image map at the top of the page: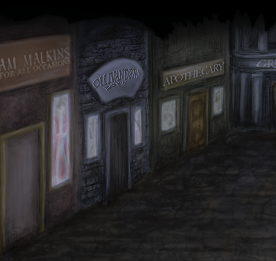 Above the toy wands for purchase, you will see a link to click to get your very own wand. Once you have gotten to that point, Mr. Ollivander will assist you in getting your own personalized wand! Your wand is free and although it will not be in your inventory, it will appear on your user info page.

How do I access my Spellbook?
Click on your wand located just under your user name and above the left side menu. This will open a link to your Spellbook.
Do spells follow the same rules for use as pranking?
Spell use must adhere to the same rules as listed under the the Additional Site Terms for pranking: Excessive pranking, pranking a user after he or she has asked you to stop, and creating "hit lists" of users to prank all are considered forms of bullying and will not be tolerated. Please follow the same rules when using spells.
How do I get spells to use?
Students can learn new spells by exploring HEX, through Random Events (REs), submitting homework, reading certain books, and other secret ways. Check out the Simply Spellbinding thread in the Entrance Hall for more information.
Where can I see who wished me a happy birthday?
For a complete list of all users who wished you a happy birthday, go to the Your Birthday Wishes page.
Apparition
Apparition is a good way to get around the site quickly! It works the same way bookmarks do on a computer! You can copy the direct link of a forum you visit often and save it to your Apparate list so you can access it by just clicking in your own links! This is a handy way to keep from having to hunt down forums!
Where do I make Apparition links?
To start, go up to the top right hand side of the page and click the hoop and stars as indicated in the screenshot above. Click on the word 'apparate' and you will be brought to your destinations page. On this page, you will paste the urls of your destinations (the pages you want to access quickly) and give them names so that you can remember where they take you!
The top URL box is where you will post the direct link to the forum. The box under it is for the name which will be displayed. Leave off the http: or https: of the url; the link should start with // or you may use relative links. For example, the relative link for the Great Hall is: /f/1 .

If you want to color the names to be displayed, use html coding to do so. The coding will go in the same box as the link name. You can read more about using HTML code in this thread.
Once your link is set the way you want it to read, head down to the bottom and click on u pdate. Happy Apparating!

What is a URL?
A URL is a string of information that indicates a web page address. On HEX, you might use a URL to post an image or link by placing the URL between the appropriate BBCode or HTML coding.
The URL of a web page can be found in the address bar at the top of the page. You may get URLs for images by uploading an image to an image-hosting website (such as postimages.org, etc.) or by using the appropriate mouse click option on your computer to copy the image URL for an image found via an internet search.
All links on HEX are routed to the https protocol, so you may choose to leave off the https at the beginning of the url when you paste it and simply have it begin with the // . For an image URL , it should also end with .png, .jpg, or .gif .
Example of a link URL with coding:
[url]//www.hexrpg.com/f/1[/url]
Example of an image URL with coding:
[img]//img.hexrpg.com/downloads/lydia1.icon14.png[/img]
You may also choose to use a relative link for certain applications, such as making Apparition links. For example, instead of using the entire link for the Great Hall, which is //www.hexrpg.com/f/1, you would use the relative link of /f/1 .
Example of coding for arelative link to the Great Hall: [url]/f/1[/url]

The link looks like this: /f/1
You can check that your post coding is correct by clicking Preview before clicking Reply.
HEX Time
You may notice that the time where you are located and the time display on HEX are different. HEX time is the same time zone as US Central Time (CT). Standard time and daylight savings time, as it applies to US Central Time, influences HEX Time as well. The current date and time on HEX can always be seen underneath the banner at the top of any page on the website. On a mobile device this can be found by pressing the 'i' symbol on top of the page. Contest and activity deadlines on HEX are according to HEX time standard.
How can I report problems or issues?

There are various ways to report an issue to staff. Depending upon the problem being reported, one method may be more efficient than another. The following list is an overview of the how to use the site's report features:

Report Feature


Description


Activation Issues


If you did not receive an email with an activation link or the activation link did not work when you enrolled for HEX, post in the Activation Issues thread in the Questions forum. You may also post in this thread if you did not receive your 5,000 starter galleons. Do not post your email address; staff can access it via your account.


Errors and Glitches Thread


Located in the The Atrium, this thread is for reporting site or account errors and glitches. Do not post personal account information in this thread. Use it for problems such as item issues and glitches with growing dirigible plums or other site activities.


Forum Moderators and Staff


Check the top of each forum for a list of moderators and staff who are specifically assigned to that particular forum. You may owl any of those users with issues regarding the forum they oversee. If you need immediate assistance, the usernames of moderators and staff currently online are listed just above the threads of their particular forums.


Forum Report Button


Located in the upper right corner of each post, use this feature to report rule-breaking content in a post. When clicked, a text box will appear in which a reason for reporting can by typed. This reporting feature is anonymous in that the user of the reported post will not know who reported it, but it is not anonymous to site staff.


Owl Site Staff


You may find the usernames of global moderators, junior staff, staff, and administrators in the SITE tab, upper left of the screen. Click About Us for a listing of the staff, their areas, and a link to owl them. Do not owl multiple moderators about a single issue. If the matter is urgent, use the Report Button or the Site > Report feature.


Owlpost Report


If you receive an owl which breaks site rules, you may report that owlpost by using the Report Message option at the bottom left of the owlpost.


Site > Report


Located at the top left of the screen on the SITE tab, click Report from the drop-down menu to report a site bug or error, a user, a forum or global moderator, or the breaking of site rules. If you're on mobile you will first need to press the three horizontal bars on the top left of the page to find the site tab.
Non-User Accounts/Site Character Accounts/Official Characters
As you get to know other users and interact around the site, you'll notice accounts that aren't for specific users. These include accounts such as HEX Staff, Welcome Center Mods and RPC Mods accounts, among many others. These accounts help areas make official posts and keep their areas organized. You've probably also noticed accounts for Official Characters and Official Creatures around the site! These accounts interact with users and are here to experience Hogwarts, just like you are!
Where can I find official characters?
The roster for all the Official Characters on HEX can be found in the Trophy Room, in the Hogwarts Alumni Registry, here. The roster for all the Official Creatures on HEX can be found in Fantastic Beasts, in Creature Sightings, here.

Do you still have questions?
Please be as descriptive as possible, and a WC mod will get back to you as soon as possible.