Full Profile of BiologicallyBeth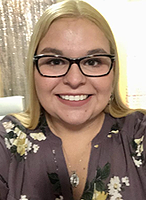 OWL ME >
Real Name:
Beth
Location:
Ohio
Join Date:
November 4, 2019
Responsibilities:
Magical Archives, Roleplaying Central, Teaching Center, MoMA
How do you spend your time when not on HEX?
Probably studying! I'm currently an over-caffinated medical student. When I'm not studying, you can find me with a book in my hand, playing a board game, or watching Netflix with my cat.
How did you become interested in Harry Potter?
I started reading the books in Kindergarten when I thought the teacher wasn't challenging me,and I've loved them ever since!
Favorite movies:
Monsters Inc.
Favorite food:
Is Coffee a food?
Fun Fact:
Peppermint Mocha is the best coffee creamer.
---
<<< BACK TO ABOUT US