Full Profile of Athenniene Cromwell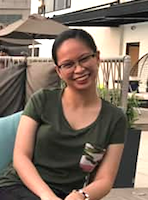 OWL ME >
Real Name:
Thene
Location:
Philippines
Joined Staff:
March 25, 2019
Responsibilities:
SCA | Social Media | Daily Prophet (Asst. Editor) | UX | Diversity Committee | FO
How do you spend your time when not on HEX?
reading | writing | watching movies/tv series | working as a PT | figuring life out
How did you become interested in Harry Potter?
My mom showed me The Sorcerer's Stone when I was a kid, but it wasn't until I was about 10 years old when I watched the latest movie at that time and started on fan fiction. The rest is history.
Favorite movies:
fantasy, mystery, fictional genre
Favorite food:
cheeseburger and fries forever!
Fun Fact:
my favorite colors are red and blue, but I own a lot of pink stuff for some reason...
---
<<< BACK TO ABOUT US