Full Profile of Are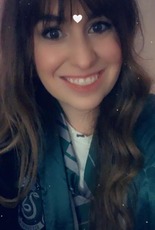 Are
OFFLINE

OWL ME >
Real Name:
Are
Location:
USA
Join Date:
March 6, 2021
Responsibilities:
HEX Mentors, Shopping Forums, Slytherin Admin, FO, Goblin City
How do you spend your time when not on HEX?
Binge watching Netflix shows, video games, sleeping, reading, and hanging with friends.
How did you become interested in Harry Potter?
My grade-school best friend spoke about a terrifying face in the back of someone's head in a book called Harry Potter. I was intrigued, picked up the book, and have been hooked ever since. <3
Favorite movies:
Difficult question.. Halloween and Disney movies! :)
Favorite food:
Italian Food
Fun Fact:
When I was two, my parents and grandparents took me to Disney World for the first time. I was so enthralled with Snow White and Dopey that I made my grandpa stand at their meet and greet spot all day with me on his shoulders. The fun fact is that Snow White learned my name, remembered it the rest of the trip, and I have a photo of her kissing my forehead. Since then, I have forever been hooked on Disney!
---
<<< BACK TO ABOUT US