Full Profile of AdeleTheHobbit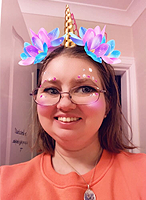 OWL ME >
Real Name:
Adele
Location:
The Shire, Middle Earth (UK)
Join Date:
November 5, 2021
Responsibilities:
Grounds, Magical Archives, HEX Mentors, RPC, Multiples
How do you spend your time when not on HEX?
Writing Fanfiction, working sometimes or reading.
How did you become interested in Harry Potter?
I believe it was when the first movie came out and my dad and stepmum took me to see in the cinema.
Favorite movies:
The Hobbit/Lord of the Rings, Disney
Favorite food:
Hershey's Chocolate
Fun Fact:
I never read the first Harry Potter book until after the third one was released
---
<<< BACK TO ABOUT US