Blotting the Parchment Incentive Program
| Posted: Jan 02, 2020 09:47 pm

MoMA Public Relations Officer
MoMA Public Relations Officer
Mixed Blood
Slytherin

Member Witch
Age: 124
Posts: 429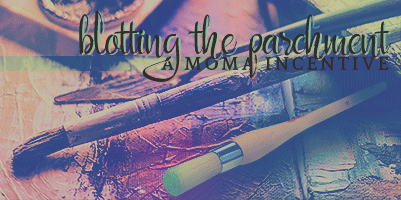 Blotting the Parchment
Artists are the people that no matter what, pick up the pen, pick up a paintbrush. They take the time to translate what is happening to create something that resonates deeply with the rest of the people that are caught in the middle of their own reality. - Anna Deavere Smith
Hello, Magenta here! We are thrilled to announce that our Incentive Program is still going strong in the new Ministry of the Magical Arts! We want to reward you with something that you can proudly display in your trophy case that represents all of your creative endeavors. Ever wished you had a tool to make you artwork even more magical? Well, I've carved up an item for that - the Enchanted Paintbrush!

Each month, you'll have a number of opportunities to participate in various activities in the Ministry of the Magical Arts. By participating in these activities and claiming them in our participation thread, you can earn yourself ink spots. Each ink spot counts as a ticket towards the monthly release of one of these Enchanted Paintbrushes. At the end of each month, we will let the randomizer decide who will be the lucky recipient of our prize, after which the ink spots totals will be reset, and everyone gets a new chance to be among the winners. So go forth, collect some ink spots, and start Blotting the Parchment!
Criteria
The reward is clear, the way in which winners will be decided is clear, but how do you earn these messy little ink spots? Below we have outlined which activities can earn you ink spots and how many you can earn per month.
Exhibition of Interdisciplinary Artistry:
Activity
Requirements
Ink Spots
Notes
Monthly Challenges
Enter a monthly challenge (writing and/or graphics).
1 spot per challenge
(maximum of 2 spots per month)
Ink spots awarded by MoMA team
Monthly Prompts
Participate in a monthly prompt in prompts thread.
1 spot per prompt
(maximum of 4 spots per month)
Ink spots awarded by MoMA team
Discussion
Participate in the Monthly Discussion
1 spot per week
(maximum of 4 spots per month)
Ink spots awarded by MoMA team
Fan Favorite
Be voted Fan Favorite in one a monthly challenge.
1 spot per challenge
(maximum of 2 spots per month)
Ink spots awarded by MoMA team


Comstock Memorial Gallery:
Activity
Requirements
Ink Spots
Notes
Artwork of the Month Nomination
Nominate a user for AotM.
- Users must include a reason or explanation (minimum of one/two sentences) for their nomination. Nominations with just a name will not receive an ink spot.
1 spot per nomination
(maximum of 1 spot per month)
Ink spots awarded by MoMA team
Portfolio Comments*
Commenting in three (3) portfolios.
- Comments must consist of at least 3 sentences.
Comment in three (3) portfolios.
- Comments must consist of at least 3 sentences; 1 spot per 3 comments
(maximum of 1 spot per month).
Users must claim ink spots


Institute of Creative Learning:
Activity
Requirements
Ink Spots
Notes
Starter Packs
Contribute one resource to our Resources List.
1 spot per resource
(maximum of 1 spot per month)
Ink spots awarded by MoMA team
Monthly Tutorial
Participate in our Monthly Tutorial by posting in tutorial thread.
1 spot per resource
(maximum of 1 spot per month)
Ink spots awarded by MoMA team
Submit a Tutorial
Submit a tutorial in the submissions thread
1 spot per tutorial
(maximum of 1 spot per month)
Ink spots awarded by MoMA team




[color=white]Edited by CaptainBreeland