Staff Member
RP Factor 2016
Staff Member - RP Factor 2016
Mixed Blood
Ravenclaw

"My skin has turned to porcelain, to ivory, to steel." -George R. R. Martin
4th year Wizard
Age: 27
Posts: 22,549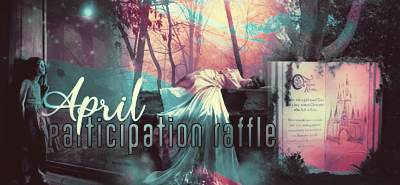 "Life itself is the most wonderful fairy tale." - Hans Christian Anderson
Things are taking a more mystical turn in the RPC this month! Let your imagination run rampant as you roleplay as two characters from separate fairytales interacting for the first time in April's Roleplay of the Month, Once Upon a Time!

Looking for something a little more surreal? Then check out this month's RP Freestyle, Concealed Companions, where you'll be tasked with weaving the tale of a child whose toy and/or imaginary friend comes to life!

Still not feeling the magic? Then stop by the Lounge and try your hand at designing a unique jack-in-the-box in this month's contest, What's in the Box?

Participation in any of these events will earn you tickets and a chance at this month's adorable stuffed animals come to life prizes!
PRIZES:

Everlasting Ink


Crup Plushie


Fang Plushie


Chick Plushie


50,000g


35,000g


35,000g


30,000g


1,000 HP


1,000 HP


1,000 HP

If you have any questions, then please post them in this thread or contact one of the RPC Moderators listed at the top of the RPC Forum.
Note: Given how rare the prize is, users will not be eligible to win the Everlasting Ink more than once in a calendar year. Should a user who has already won the Everlasting Ink be randomized for that prize, we will re-randomize all of the prize winners to ensure our results are as fair as possible.