The Vault The Archives, A History

Magical Archives Moderators' Account
Magical Archives Moderators' Account
Muggle Born
Gryffindor

Please owl your questions to a Magical Archivist, as this account is not checked daily.
5th year Witch
Age: 36
Posts: 1,312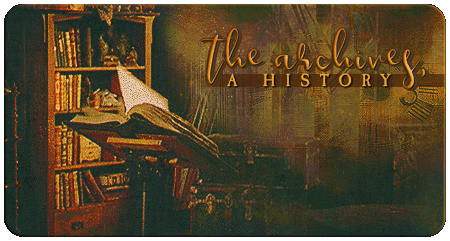 Foreword

Welcome to the Magical Archives, a place where the magic of the wizarding world never dies. Here we strive to rediscover the magic while also being an archive or hub of sorts for the canon universe, from the original books and films to companion books to the newest additions, Harry Potter and the Cursed Child and Fantastic Beasts and Where to Find Them. The Magical Archives have changed and expanded over the years, so we present to you our own little archive, not only of the history of our forums but also the logs from the Archivists themselves. The Archives would not be what they are today if not for the work of several hardworking HEXians. We've had several events over the Archives' lifetime, and we hope that everyone enjoys additional ways to relive the magic in the months and years to come.


History

01/14/2014 - HP & the Philosopher's/Sorcerer's Stone Forum Opening
02/28/2014 - HP & the Chamber of Secrets Forum Opening
04/17/2014 - HP & the Prisoner of Azkaban Forum Opening
05/23/2014 - HP & the Goblet of Fire Forum Opening
07/06/2014 - HP & the Order of the Phoenix Forum Opening
08/26/2014 - HP & the Half-Blood Prince Forum Opening
09/26/2014 - HP & the Deathly Hallows Forum Opening
11/08/2014 - HP & the Deathly Hallows (Movie) Forum Opening
06/15/2015 - Magical Archives Main Watch Thread makes its debut
07/18/2015 - A Journey Through Time begins
06/18/2016 - In Loving Memory Forum Opening
04/04/2017 - Tales of Beedle the Bard Forum Opening - The Five Fables begins
05/29/2017 - Interactions from the Great Beyond begins - ILM Forum
07/30/2017 - Harry Through The Ages begins
10/01/2017 - Cursed Child and Fantastic Beasts Forums join the Magical Archives
10/18/2017 - HP & the Deathly Hallows (Movie) Forum closed for refurbishment
01/01/2018 - The Vault Forum Opening - Life After Hogwarts begins
06/01/2018 - Magical Archives Revamp - All forums active on a regular basis


A Journey Through Time - This two-year long event was an effort to bring back the magic, one chapter at a time - literally! The event went through every chapter of the original seven novels, from Philosopher's (Sorcerer's) Stone to the Deathly Hallows. It culminated in hundreds of tasks and contests by event's end, not to mention a huge participation raffle. The event was a literal journey throughout the novels, remembering how it felt the first time you read them.

The Five Fables - This event revolved around The Tales of Beedle the Bard, one of the companion novels within the Potter universe. For each of its five short stories, the Archives presented a contest and activity to further delve into the literature. Additionally, there was collaboration with SCA to bring the canon characters to life while reading these stories.

Harry through the Ages - This event focused on specific characters, specifically those prevalent throughout Harry's seven years at Hogwarts. The event lasted for five months, and each month focused on one character: Harry Potter, Sirius Black, Severus Snape, Nymphadora Tonks, and Ginny Weasley. The event included weekly tasks, monthly character contests, and a monthly raffle.

Life After Hogwarts - Our current event revolves around what happens after graduation in the wizarding world. Would you want to join the Ministry? Own a shop? Become a Magizoologist? For eight months, we will be exploring wizarding careers and what life is like after one leaves the Hogwarts grounds.


[color=white]Edited by Vievelynn

Magical Archives Moderators' Account
Magical Archives Moderators' Account
Muggle Born
Gryffindor

Please owl your questions to a Magical Archivist, as this account is not checked daily.
5th year Witch
Age: 36
Posts: 1,312
Archivists' Logs
The Archives hold a very special place in my heart. They began as a very small idea that I had one night and have grown into something that I could never have imagined. I began the Archives so that users would have an outlet to discuss, create, and further dissect the wonderful materials that J.K. Rowling had given us. I wanted to help ensure that the magic would NEVER die. I am responsible for creating the area and staffing it for the first few years. I worked with so many wonderful people in the Archives over those years, with Staff help from Chrissy, Jo and then Mollie. We had some really great ideas that have since exploded and become activities and programs that users love and adore. I am very proud of what the current Archivists have accomplished and cannot wait to see what else comes of the area in the future.
~ Angela (Ninja Kitten)
I remember when the Archives were just an idea in our heads, sometime back in the autumn of 2013. It started as a random burst of inspiration in a completely unrelated discussion. Wouldn't it be great if we had forums specifically geared toward the Harry Potter books and films? Originally, it was an offshoot of Info Forums, now known as the HINT forums, where we used to have a few threads dedicated to the discussion of the HP books and films. Then we branched off to create the Magical Archives, then known as the HP book and film forums, and they weren't even their own area. I was around for the original launch of all of the original forums except for the Deathly Hallows movie forum. I remember how excited we all were in January 2014 when the first forum was announced, which we branded as "rediscovering the magic." It was really magical to be able to bring the books to life, and I also think back then we had no idea what the Archives could become. I took a hiatus from HEX from late 2014 to 2016, and I was absolutely blown away at how much the Archives had grown in my absence. They were their own area, and they were called the Magical Archives - a name we had played around with quite a bit behind the scenes but never became official during my first tenure. Then I saw A Journey Through Time, which was also established after my tenure, and it is just amazing to be able to run a contest for two long years and explore every chapter of the books. That was the embodiment of what we had dreamed the Archives could be. After seeing that, when applications for the Archives came open again, I couldn't resist, and I reapplied because I wanted to come back. I always loved the area, and I regretted not being around to see it grow over the years. Now I'm back, and it has a special place in my heart now more than ever. I feel very blessed to have the opportunity to continue to bring a new experience for the Harry Potter books and films, and now Cursed Child and Fantastic Beasts. The Archives seems to grow as the Harry Potter universe grows, and I don't think we can ask for any more than that.
~ Julie (julieexann)
The Magical Archives have a special place in my heart as it was the place that I felt that I became the most comfortable with myself and really felt the confidence in my own abilities and ideas. With the great support of the team from the very beginning for the first opening the Archives forums with Julie and NK, it really became a place where coming up with new ideas and discussing them felt really safe and secure. The initial idea of The Journey Through Time event was the first major thing I proposed, and the great ideas of the team meant we could flesh this out and make it something unique. One of best things about this - it wasn't just a short term thing, but something where every effort was needed to make it great. With the collaboration needed to work and maintain the Archives, it really improved team collaboration and also showed how creative every single person on HEX was.
~ April (xxmissyxx101)
My time working in the Magical Archives was such a fun experience! It was still an up-and-coming place that I hopped into right after creation and began having fun and trying to add my two cents in as it went. It was really fun going back through the years of this amazing series and watching the users reignite their love for the books. It was a lot of fun and helped me learn a lot about myself. Read: Pan and I were menaces to all those hard workers because we were absolutely insufferable to work with.
~ Tyler (Phoenix101)
Hey, I'm Brit. A previous member of the Magical Archives team. When I'm not on HEX, I'm likely playing a video game or hanging out with my husband. My real life is honestly not interesting at all. I became a Magical Archivist in 2014 and was a part of the team for a couple years. As a Magical Archivist, I planned the opening of a few of the forums, continued to create contests after all the forums were open, moderated the Magical Archives forums, and made ticket lists for the on-going event. Opening day of each forum was always super exciting because you were able to just feel the excitement from everyone as they explored the new area. But, of all those, I would have to say really enjoyed the contest creation portion as it was exciting to come up with new ideas and see people actually enjoy the contests. Seeing entries for a contest I created always made my day. The Magical Archives will always have a sweet spot in my heart.
~ Brit (Brit)
It all started on May 2014, with an owl titled "*cough*". Ninja Kitten invited me to help work on a project which was then known as the HP book and film forums. Not really knowing what I was getting into, I accepted the offer and jumped right into the craziness. This was my first actual experience doing anything behind the scenes on HEX and despite a lot of mishaps in the beginning, I really enjoyed it. Eventually, the team decided on a name and the forums were rebranded as the Magical Archives. I wasn't there right from the beginning, but I was able to help with the launch of the PoA forum and 6 of the other Magical Archives forums, up until In Loving Memory. I also played a big role in the implementation and organisation of the A Journey Through Time event, which was an extremely big undertaking for the team. It was truly magical to work in an area on HEX that focuses directly on the HP books and films and to watch that area grow. I feel blessed to have had the opportunity to work with the people I worked with in the Archives as a moderator, Global Moderator and eventually as a Staff Member. Although I left the Archives when I took a break from HEX in 2016, I am still proud of the area and it will always have a special place in my heart.
~ Chrissy (Chrissy)
Here on HEX, people call me Des. I'm happily HEX married to James (Dark Lord James) and I am the proud HEX mama of Choco_Malfoy, bloodofreptile, and Elsa21. I was part of the small group of people who started the ever expanding Royal Family of HEX. In RL, I'm a work from home, homeschooler, single parent of a super spoiled little princess. The Archives: Back in my days, the Archives was going through the re-read. We were going through the whole series and coming up with activities per chapter. The image map was new back then. And we had recently just launched/released the item: Book of Records. My Contribution: Not sure how it works now, but when I was an Archivist, we had a rotation system. And we could just claim the topic & date and say what kind of activity we would do. I was really excited about the debate one that I did. In RL, I was co-captain and pioneer member of my college/university's debate team, so I was super excited to bring that in here. We had a relatively "okay" level of activity for that event. It did a lot better than the comic strip one that I made (where only one person entered)
~ Des (Desiree Snow)
You can pretty much find out everything you would ever want to know about me from my profile page here... As for HP, I returned to the US after being out of the country for a long time and my BF's little brother showed me the first book and asked if I had read it. I don't think I slept that entire week. I read everything that was out. I have read so, so many things...things I could get lost in, but could be returned to the shelves, so to speak. But not Harry Potter. I have carried them, as part of me, from that day on. I became part of Magical Archives in May 2016. It was my first Mod position. I had seen the Archives and always wanted to participate in the activities, but somehow never managed to make my way over here. I was thrilled for the opportunity to work behind the scenes in an area so dedicated to the canon structure of HP! I joined the team after many of the forums were already in place, yet I have also have the priviledge to see it grow to nearly double what it originally was. It truly is a magical, ever evolving place. My great love is contests and tasks. I would constantly research, brainstorm with others, and push myself to create the most unique and exciting ones I could. I think I did well with it. Seeing more and more participants get involved and enthusiastic about this area, seeing it grow and become so much more...that was truly magical to me. MA is definitely a very special place to me, where I grew right along side it. I will always have Archivist blood running through me!
~ Lua (Lua Septima)
I've loved the Archives for a few years, and always thought it was neat that they would delve into the books like they did. It was a chance to hear other people's opinions, and see everyone come together for something they love. When I started working for the Archives in 2016, I fell even more in love. To get to interact with users and create tasks that were loved was amazing. I am so grateful to be a part of this wonderful area, and call it my home on HEX.
~ Heather (Data)
Being a part of the Magical Archives team makes me feel like I'm rereading the books or rewatching the films every day. We are always looking to shine a light on the small yet important pieces of the Wizarding Stories. Every day is a new adventure on searching for details we don't focus enough on. When I started working in the Magical Archives I had no idea we would end up expanding to 12 forums! Honestly, the best part of my job is working alongside a team that is ready to give their 110% every moment. I'm so thankful to be a part of this team as it's not only taught me many HEX skills but also helped me grow as a person.
~ Camila (ilostmyleftshoe)
Even though I have been on the site for many, many years, I've only recently became a member of the Magical Archives team. I wasn't here for the area's birth, nor was I here to watch it give its first steps. But I can honestly say that I've grown to love the Archives, and I couldn't be more proud of the amazing team that has made and makes the area what it is today. The Archives feel like home to me. When I am in there, I know I am among friends. When we're planning and throwing ideas around, the magic is alive again. Things are real, even if for just that fleeting moment. All I can hope for is that each and every one of you can feel that too.
~ Jo (JoJo)
Magical Archives... How do I even begin to explain the Magical Archives? The Magical Archives are flawless. I hear its avvies are insured for ten thousand galleons. In all seriousness, I've been a part of the Magical Archives team for nearly a year now, and I couldn't wish to involved in a more interesting, diverse, or fun area. We get to explore the intricacies of the story, both the nitty gritty details and the abstract ideas which has only solidified my love for the Harry Potter series. We're entering a really interesting new chapter in the Magical Archives and not only am I excited about the possibilities to come, but I am honoured to be a member of such a wonderful team.
~ Nicky (Nickolaii)
I'm one of the newer Archivists, but I've been able to toss the "newbie" status of being in here to some others. My time in here has been wonderful and the tasks are fun! It has really brought back my love of the books. Also, having worked in various areas, I feel like this is one of the most family-oriented places. Everyone is helpful, everyone is amazing, and you definitely feel connected to each and every person you work with. It's been such an amazing area to work in and I'm glad that I was able to take part.
~ Shannon (Sasuke Uchiha)

Other notable contributors to the Magical Archives:
Nikki, Pan, Raven Fern, Danielle C, Snape Potter, Astraia, Lillus, Alexrider2011, Dn25, briannabreez, ArabellaMarie, JustBev, Monica, Meredith_lee, alltimemorgan, MoccaMarie, lyonhearted, Chelsi, Emma
[color=white]Edited by julieexann