Magical Archives Moderators' Account
Magical Archives Moderators' Account
Muggle Born
Gryffindor

Please owl your questions to a Magical Archivist, as this account is not checked daily.
5th year Witch
Age: 36
Posts: 1,317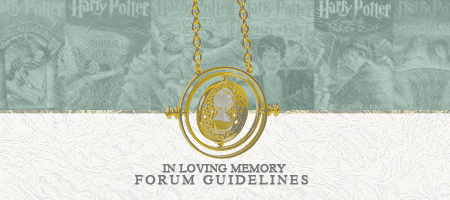 Welcome to our In Loving Memory forum!
This forum is to be used specifically to pay our respects to both Characters and Actors who have passed away. It is a memorial forum - a place to celebrate life and to share memories of the good times with others. We hope that this forum allows you to honor those who have gone to the great beyond.

Join us as we share our favorite moments and thoughts on those who have gone to a better place here In Loving Memory. Share your thoughts and even memories that will allow JKR's creation to live on through us all.

Feel free browse the threads we have and create your own. Let us hear from you! But please, follow the forum's rules below. <3
FORUM RULES:
1. This forum is for the discussion of both Characters and Actors who have passed.
2. If you wish to discuss a book or movie outside of the Wizarding World, please visit the Fandom Forum in HINT Enterprises.
3. Game threads, scavenger hunts, free contests, and roleplays of ANY KIND are NOT allowed. Please visit any of our other forums for those activities.
4. If a fellow friend, family member, pet, or HEXian has passed away, please feel free to create a thread to remember them.
5. Follow all HEX rules when posting in this forum.
6. There may be spoilers in this forum for those who haven't read or seen the books and films yet; participate in the threads posted in this forum at your own risk.
7. If there is already a thread or two of the same person, elf, etc., please use one of those to reduce spam. Others will be locked.
8. Please keep in mind that this is a positive space. Be kind and respectful to others. All HEX rules apply in this forum.


[color=white]Edited by Vievelynn