Cursed Child
Memoirs of a Trolley Witch
Magical Archives Moderators' Account
Magical Archives Moderators' Account
Mixed Blood

Voldemort Day Itinerary - HP prizes | Check it out /f/248
1st year Wix
Status: Offline
Age: 35
Posts: 199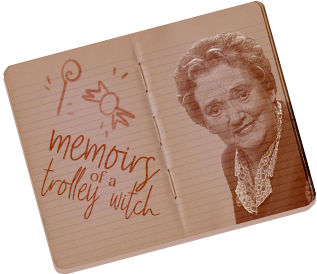 TROLLEY WITCH: People don't know much about me. They buy my Cauldron Cakes - but they never really notice me. I don't remember the last time someone asked my name.

ALBUS: What is your name?

TROLLEY WITCH: I've forgotten. All I can tell you is that when the Hogwarts Express first came to be Ottaline Gambol herself offered me this job...

SCORPIUS: That's - one hundred and ninety year. You've been doing this job for one hundred and ninety years?
-- Harry Potter and the Cursed Child - Act I, Scene XI --
---
The Trolley Witch. Silently serving the Hogwarts students sweets and pastries to pass the time on the Hogwarts Express. Little is known about this dear, old lady... that is, until two students try to hop the train.
TASK
In no more than 1,000 words, write a memoir in honor of the Trolley Witch and her service on board the Hogwarts Express. Be creative and think outside the box as Cursed Child brought up many confusing elements about the Trolley Witch. Things you will want to consider:
- How has she been living for over 190 years?
- What does she do to turn her pastries into weapons?
- Why does she feel so protective of the students on board the Hogwarts Express?
Feel free to explore these questions and your own. Along with your entry, please include a word count at the bottom.
RULES
- Entries must follow all HEX rules and guidelines.
- Your work that is not your own will not be tolerated and will result in disqualification.
- Each person who participates will gain one (1) ticket to March's Book of Records.
- Entries will be judged by the Magical Archivists based on creativity, entertainment, and use of prompt.
- Please owl your entry to The Time Turner by 11:59 pm on February 14, 2018 HEX time.
- If you have ANY questions or concerns, feel free to post in this thread or Ainsley.
PRIZES
1st Place - 750 HP | 10,000 Galleons
2nd Place - 500 HP | 7,500 Galleons
3rd Place - 250 HP | 5,000 Galleons
Participation in this event will count towards March's Book of Records


[color=white]Edited by acports16