Magical Archives Moderators' Account
Magical Archives Moderators' Account
Pureblood
Hufflepuff

Open me and find, there's a whole new world inside!
1st year Wix
Age: 83
Posts: 432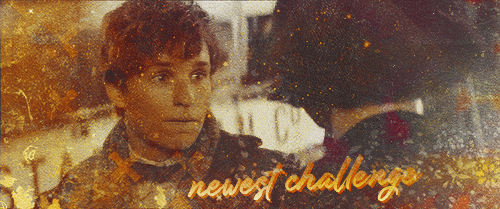 "...it's interesting because your eyes in newsprint. See, in reality, they have this effect in them, Tina. It's like fire in water, in dark water. I've only ever seen that... I've only ever seen that in..." --Newt Scamander
---
Newt knew that he had strong feelings for Tina. He knew this as well as he knew his own name. But... it seemed that every time he tried to tell her, he would get tongue-tied. Or they would get interrupted. Or he would end up accidentally insulting her. But either way, his attempts to tell Tina how he feels about her always seem to be thwarted in some way. So now, he's made his decision. He wouldn't use words. He would make her a Valentines' gift.
TASK:
Your task is to create the gift that Newt Scamander will create for Tina Goldstein for Valentines' Day. Does he make her a piece of jewelry? Does he write her a poem? Does he give her a card? The choice is yours. You may include an explanation if you'd like, but only the gift itself will be judged.
RULES:
- All entries must be submitted into this thread by March 14, 2020 by 11:59 PM HEX time to count.
- All entries must abide by the HEX rules.
- All work must be your own.
- Any medium is acceptable EXCEPT photo manipulation.
- Any questions may be sent to Dustin or Jen
- First place will be judged. Second and third place will be chosen by randomizer from all remaining participants.
PRIZES:

1st Place -

Heart-Shaped Cotton Candy+
750 HP
2nd Place -

10,000 Galleons +
500 HP
3rd Place -

7,500 Galleons +
250 HP
Participation in this event will count towards April's Book of Records


Edited title to close bold tag - Edmundus

[color=white]Edited by Edmundus
Replies to this thread will not be displayed.