Muggle Born
Ravenclaw

Find HEX on Facebook, Twitter, Instagram, Tumblr, and Pinterest!
1st year Witch
Age: 33
Posts: 206
Twitter is a popular social networking site where users may share short and frequent posts called 'tweets'. It was founded in March 2006 in San Francisco, California, but wasn't launched until July of that year. From there, the site grew popular at a fast rate and was actually dubbed as 'The SMS of the Internet' in 2013. Twitter remains to be one of the leading platforms in the world today with more than 330 million monthly active users recorded last year.

But why is it so popular and how is it unique from the other platforms? Twitter is an excellent and efficient way to market brands and communicate information. Businesses and organizations nowadays use Twitter to promote their products and services and reach out to their customers. The platform also provides instant updates about what people are currently talking about worldwide through the Trending Topics list. Meanwhile, for some users, Twitter is simply an outlet for their random thoughts and unvoiced opinions.
---
HEXRPG on Twitter
First, you should know that the official handle of HEX on Twitter is '
@hexrpg
'. You can access our Twitter account from the site by clicking the semi-transparent Twitter Bird icon on the top right side of the homepage just under the 'Members Online' count. If you're on mobile, click the
icon on the top left of your screen, and you should find the same Twitter Bird icon along with the other platform icons.

Now, what contents could you expect from HEX's Twitter account? A lot actually! We post Date Tweets to remember important moments and certain timelines in Wizarding history. We also post about the latest activities on your favorite forums - new contests, new discussions, new incentives. If there are any site updates, you'll see a tweet about it as well. We have polls, we have raffle questions, and you never know... we just might be brewing something new for you guys, too.



Have we caught your interest yet? We thought so! What are you waiting for? Proceed to the next post to see how you can create your own account on Twitter today!
Creating an Account
Navigating Twitter
FAQ
---
Don't forget that by interacting with HEXRPG's official platforms, you can enter our
Social Media monthly raffle
and get a chance to win one of our amazing prizes! Additionally, you can be hailed as our next
Social Butterfly
!

If you created or have an account on any of the platforms featured on Platform Tutorials, please take the time to fill up
THIS FORM
to help us keep track of our users. We assure you that your information will remain strictly confidential and be used only to help our team match users on HEX with their social media accounts.


[color=white]Edited by Athenniene Cromwell
Junior Staff
Junior Staff
Muggle Born
Ravenclaw
...
4th year Witch
Age: 24
Posts: 16,645
Signing Up
1. Open the website
www.twitter.com
on your browser or download the Twitter app for free on App Store or Play Store. For ease of our tutorial, click
HERE
to go directly to the Sign Up page.

2. You will see the page where you can Create an Account. Fill up the fields with the required information. Please note that your 'Name' does not have to be your real name; you may use a pseudonym instead.
You may choose to use your Phone Number or Email to sign up to Twitter by clicking on the 'use email/phone instead' below the box.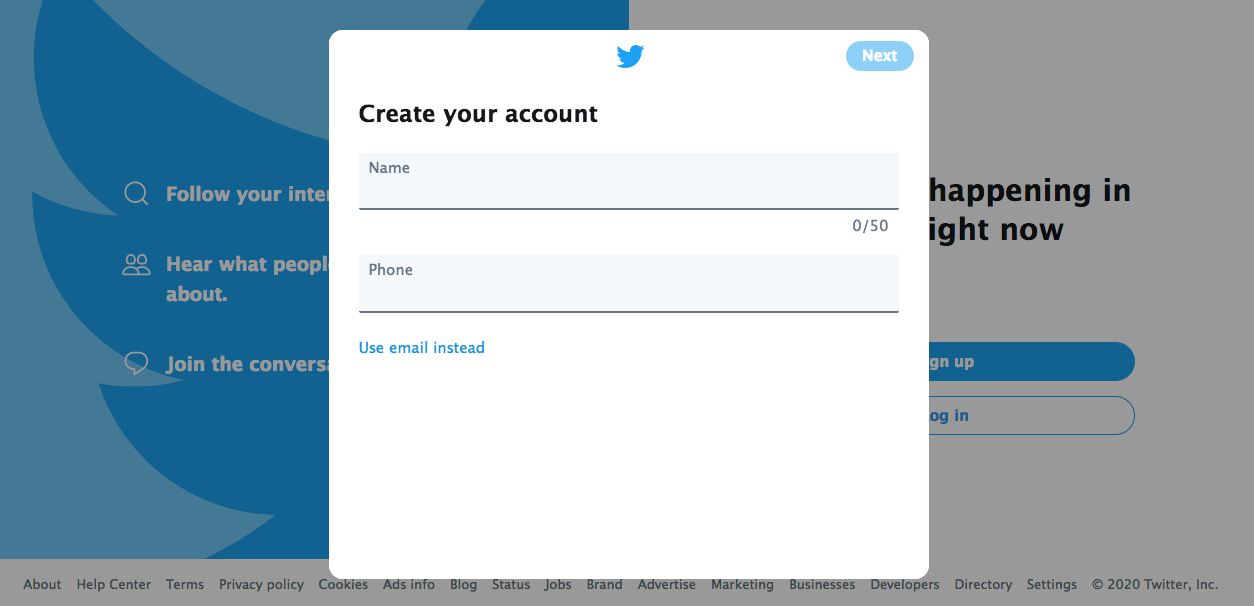 After you've filled both boxes up, click 'Next' that's located at the top right portion of your screen.

3. Verify your account. If you used your Phone Number to sign up, you will receive a message with a six-digit code from Twitter. Enter the exact digits on the box, and click 'Next' to continue.
If you used your Email to sign up instead, you will still need to verify your account later, but you will be creating a password for your account first.

4. Create a strong password for your Twitter account. Make sure that it's something that you can remember, but not something that can be guessed easily by anyone. Click 'Next' to continue.

5. The page will now ask you to select Interests and people to follow, but you can Skip these by clicking the 'Skip for now' option at the top right corner. Click 'Next' to continue. If you used an Email to sign up earlier, the next window will be asking you to confirm your account through a link in your email.

And that's it! Welcome to Twitter! Now, your new account may be looking bare and boring, but don't fret. The next sections will explain how you can update the information on you profile. Stay tuned!

Junior Staff
Junior Staff
Muggle Born
Ravenclaw
...
4th year Witch
Age: 24
Posts: 16,645
Navigating Your Account
Before we start, please note that this guide is based on the desktop version of Twitter so a few things may not be in the right position for mobile users. Don't worry, the same buttons and options are still there. You just have to look for them a little.

Now, let's familiarize yourself with the homepage first. Twitter has three sections.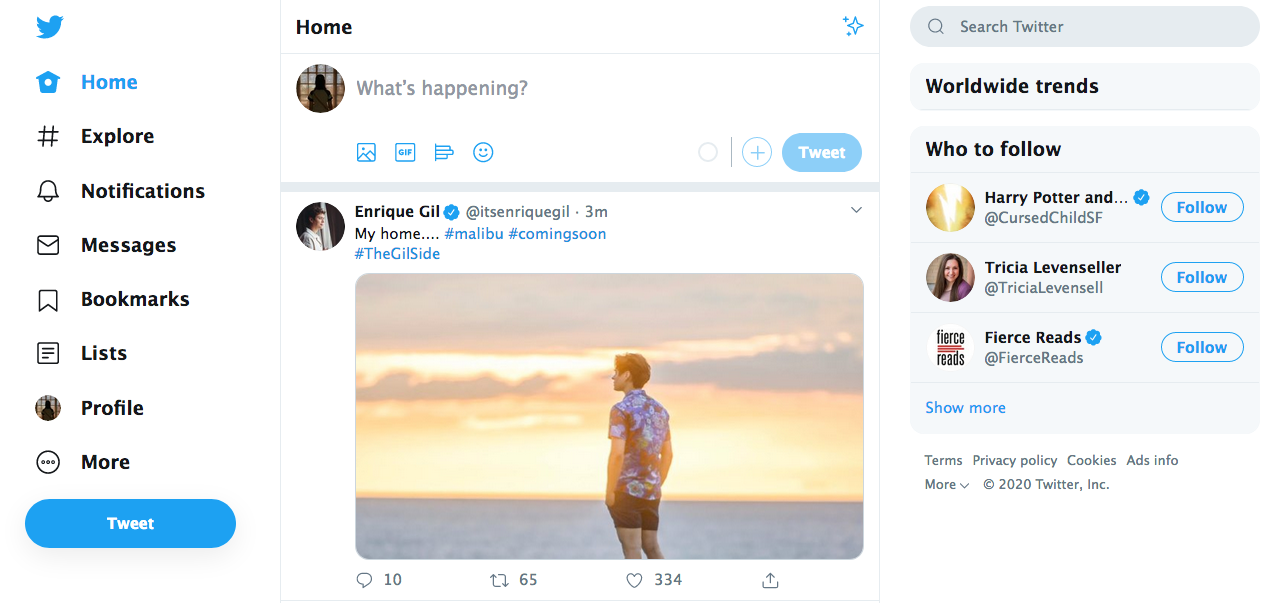 The left side is where it lists the menu and access links to navigate your account. The middle section is where you can create a tweet and see the rest of your timeline that contains other tweets. Finally, there is the right side where your Trends and Who to Follow areas are. Still with me? Good.
---
Updating Your Profile
Before we make our first tweet, let's beautify your profile! On the left section of the homepage, click 'Profile' and it will direct you to your Twitter profile page. Then, look for the 'Edit Profile' button just below the section for the cover photo, and click it.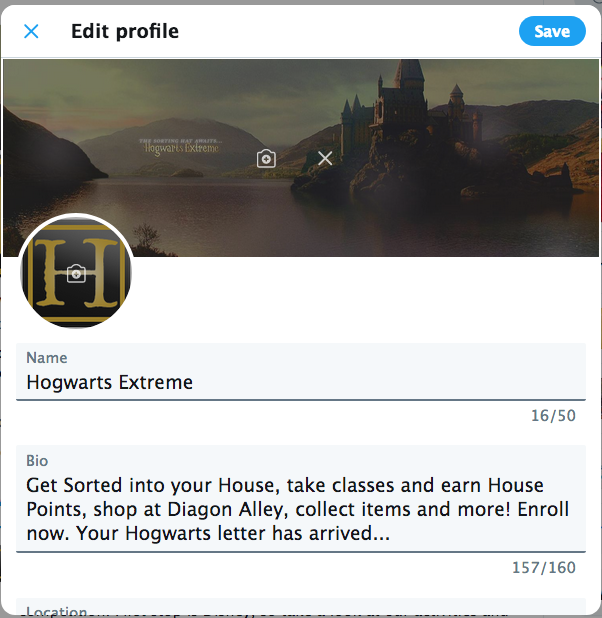 You should see a similar window pop up on your screen - sans the info, of course.
1. The top image is where you can upload your Twitter profile's cover photo. It can be anything you want!
2. The smaller, circular image are on the left is where your avatar would go. Again, it can be anything you want it to be.
3. The 'Name' section should contain whatever name you've used during sign up, but you can change it as well.
4. Add a bio! What House do you belong in? What's your favorite quote? List your interests and hobbies. This space is yours!
5. Next, add a location. Be careful what you share though! You can just list your city or country. Or even better, put 'Hogwarts' on the field!
6. Add your website. Do you have a blog? A channel? Again, be careful when sharing links that will direct to personal pages and accounts!
7. Finally, place your Date of Birth! Now, this might be a bit tricky for younger users since Twitter has recently updated their rules. Users need to be at least 13 years old to access the platform, otherwise your account will be locked. This is not a reason for you to put the wrong birth year though!
8. Don't forget to click 'Save' once you're done!

That's looking better, isn't it? I think you're ready to make your first tweet soon!
---
Tweets
Let's make your first tweet! The top middle section of the homepage is where you can type up your tweet.



You can put anything you want as long as it is within the character limit. Share what you're currently doing, tell us what you're craving to eat, put a random thought or quote. Anything goes!
---
Follow HEXRPG
Before we continue, let's make sure you're following HEX's official Twitter account first. This part will also teach you how to search things on Twitter.

1. From the homepage, you can locate the search bar on the top right corner of the screen.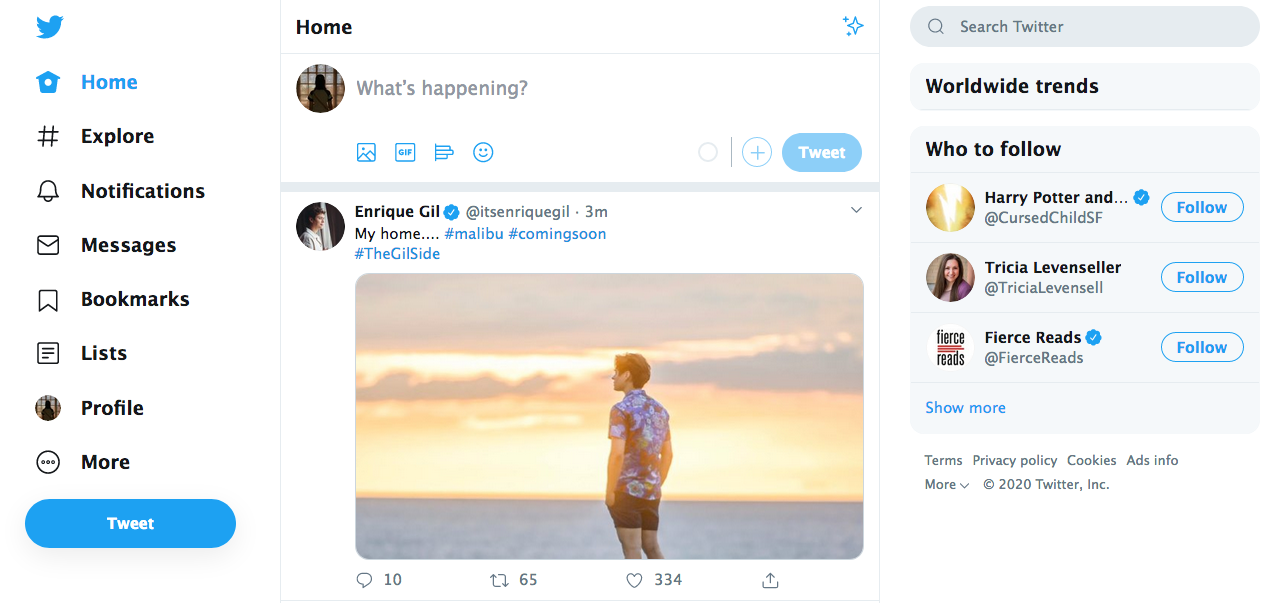 2. To find HEXRPG, type '@hexrpg' on the search bar. You can wait until it loads suggested accounts and see if will show the official account, or you can hit 'Enter' right away to view all search results.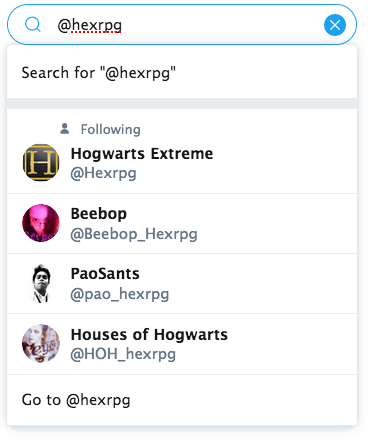 In this case, it showed up as a suggestion, so all you have to do is click it to be directed to
HEXRPG's official Twitter account
.
3. Hit that blue 'Follow' button to see the latest posts from HEX!
---
Retweets and Likes
Are you still on the HEXRPG profile? Great! Let's now work on Retweets and Likes. See the image below to guide you.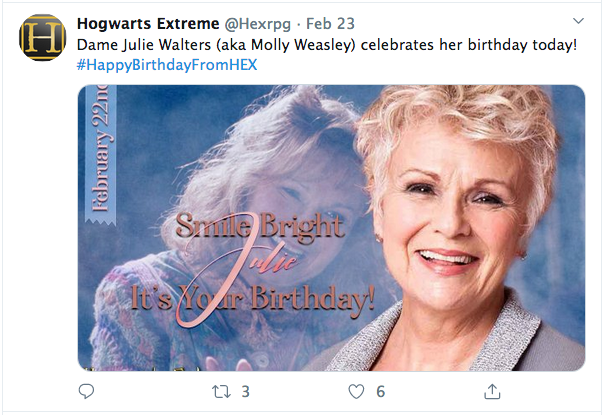 That is an example of a tweet from HEXRPG's account. At the bottom of the post, there are four buttons - the Reply, Retweet, Like, and Sharing features respectively.

To make your first retweet, simply click the Retweet button. It will show you two options: Retweet or Retweet with Comment. You can do either, as Retweet with Comment simply allows you to add your own comments about the post you want to retweet.

To like the post, simply click the Like button. If you want to reply to a tweet, you simply have to click the Reply button and tweet what you want to say.
Well, those were the basic things you need to know for Twitter. For more information, check out
Twitter's Help Center
or post your question in this thread.