Muggle Born
Gryffindor

Please direct all questions to a Social Media Moderator or Gmod+
1st year Wix
Age: 26
Posts: 108
Dumbledore on the Lam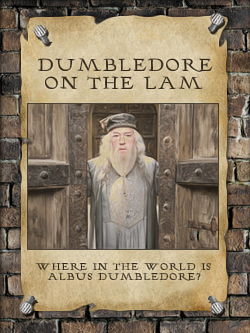 #DumbledoreOnTheLam
When referencing the term "On The Lam" it shows in the Thesaurus of American Slang as: One who leaves with great haste, or a hasty departure. Clearly this describes Albus Dumbledore's great escape from his office at Hogwarts. Wouldn't we all love the ability to use Phoenix Magic, and disappear to wherever we wanted to go? Plus if we did use this special type of magic where would we go? That is the question we're asking all of you this month. Where did Dumbldore go when he was on the lam. Please help share some insight on this topic by helping to investigate with your own theories.
TASK:
Now that the Social Media Staff have learned their new skills we are wanting to find out what we might have missed. Your job, if you so chose to take part in it, is to tell us what Dumbledore was up to while he was away from Hogwarts during Umbridge's uprising, and the Ministries interference at Hogwarts.
This is a Journalist task where you can either use a Graphic(with a caption) or Write a news article explaining where Albus Dumbledore went while in hiding. Graphics are to have a 50-100 word caption added. News articles are to be 600-1000 word count. The word count must be shown, as well as a News Headline title to your story for the submission to count. Entries that do not meet the word count rules, Missing a Headline, or have no attached caption with the graphic will not qualify for a ticket. The first place prize will be judged from all qualifying entries. The remaining will be randomized for the other prizes. All entries must be submitted in this
hidden reply thread.
Rules:
1. All HEX terms apply.
2. Your entries must follow all stated criteria. Graphics must be original custom content work on approved graphic software, or Hand drawn will be allowed. Caption must be a max. 100 words. Written the same way as a Newspaper photo caption would be done.
3. Newspaper Article entries must be 600-1000 words. Newspaper/Daily Prophet style headline for title, plus the word count showing at the end are needed for entry to count.
4. You may only submit one entry, either the Graphic or Article. Your valid entry will get you one ticket for the final drawing.
5. Submit your entry by November 30th at 11:59pm HEX time in the hidden reply thread, ensuring you have included all required elements of the task.
6. If you have any questions, please post in this thread, or Owl Gilda, Lipster or Hav
Prizes:

First:

- Dumbledore Plushie
Second:

- Dumbledore's Raspberry Jam
Third:

- Dragon Blood Every Flavor Bean



- 10,000 Galleons



- 500 House Points


- 500 House Points


- 500 House Points


- 500 House Points


- 500 House Points