CHRISSY MAYName: Chrissy
Age: 26
Location: Australia
ACHIEVEMENTS - Charms Year 3 TA (2016)
- Staff Member (Oct 25 2015)
- Quibbler Hexian of the Month (August 2015)
- Honorary Ravie (2015-2016)
- Honorary Gryffie (2014-2015)
- Magipsychology TA (2015)
- Hufflepuff Assist. Admin (Nov 2014)
- Global Moderator (Oct 11 2014)
- Hufflepuff Prefect (May 2014)
- Magical Archives Mod (May 2014)
- Loyal Hufflepuff (April 2014) PORTKEYS

User Info Trophy Case Wishlist Owl Me

ALL ABOUT HER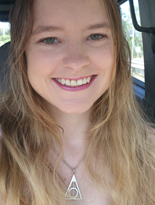 Hello readers! I'll try to make this page as interesting as possible for you, but I can't make any promises xD. My name is Chrissy and I'm 26 years young. I live in a nice little house in Brisbane, Queensland, Australia with my boyfriend of five years. Usually when I tell a Hexian that I am from Australia, their response is something along the lines of "Wow, you're lucky. I've always wanted to go to Australia!". This is though, Australia is expensive and the spiders are HUGE! XD
I enjoy warms cups of tea in Winter and refreshing iced coffees (without cream) in the Summer. I have recently become obsessed with Doctor Who. I would love to have seen more of Nine, but Eleven is by far my favourite reincarnation of the Doctor. I also enjoy Game of Thrones (Ygritte and Sansa are my favourites), catching shiny Pokemon and quoting from the movie, Mean Girls... You go Glen Coco!
I've been on Hex for eight years now and I have to say that these last few years on Hex have been the been the most amazing for me. The supportive environment of Hufflepuff house really encouraged me to get involved in a wide number of things on Hex. I love chatting to a variety of users and I'm not shy, so if you're ever interested you can owl me for a chat.

IMPORTANT UPDATE: In July 2016 I adopted a beautiful Chinchilla X rescue kitty and named him Jojen. He is the most loving and playful companion, exactly what I needed. He has unleashed the crazy cat lady in me. He's an instacat:
@jojenthecat
HUFFIE SUPERLATIVES
June 2014 -- Most likely to gossip about boys/girls.
August 2014 -- Most likely to SUCCESSFULLY catch all 150 original Pokemon.
September 2014 -- Most likely to throw the party of the season.
February 2015 -- Most likely to be handing out heart-shaped cookies.
March 2015 -- Most likely to make green colored snacks and drinks on St . Patrick's Day
May 2015 -- Most likely to make cookies to welcome the new staff.
June 2015 -- Most likely to star in their own movie.
September 2015: -- Most likely to prepare an elaborate gourmet meal.
December 2015: -- Most likely to have warm weather on Christmas. morning
January 2016: Most likely to have a huge collection of teas.
December 2016: -- Royalty of Britain: Most likely to celebrate International Tea Day by buying out the local stock in tea:
Mementoes
~cm-designs~
@ 11/09/2015