News
The Atrium
Posted by MariaAna on August 18, 2019 - 4:59 pm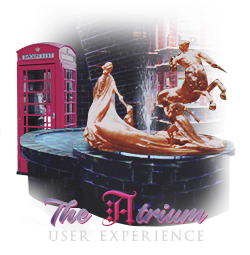 The Ministry is interested in knowing what made Dumbledore hire certain Professors at Hogwarts. What made him choose them? So, here are new activities!
We can't wait to hear what you have to think in our two newest polls, and we've got a new participation raffle and HEXperience trivia to tickle your taste buds! Run on over to the Fountain of Magical Brethren to chat up two members of site staff and ask them all your questions! Dumbledore is famously known for hiring the most
interesting
Professors. What do you think would catch his eye in an application? It's time for you to show us in
You're Hired!
In addition to our
Errors and Glitches
thread, be sure to check out our
Known Bugs
thread, the
Broken Coding and Formatting
thread, and our
Homepage Polls: Let's Talk About That!
thread!
We hope to see you around The Atrium soon!
Daily Prophet :: August Edition
Posted by Mark on August 16, 2019 - 2:16 pm
It is often said that music soothes the savage beast. While we know it works on a Cerberus (really though, Fluffy can't be the only one around), the saying also holds true for those of us on two legs instead of four. Whether you listen to music in order to relax, to accompany doing tedious chores to, or just to belt out your favorite song at the top of your lungs - music holds a sway over us that just can't be denied. Join us in
August's issue
as we sing along to songs and put on our dancing shoes!
Did you miss an edition, or want to re-read your favorite articles? Check out our
Official Archives
to get your hands on all of the Daily Prophet's former issues.
If you have any concerns regarding the Daily Prophet, please contact
Janelle
,
Mark
, or
Thene
. You may also get in touch with
Cody
,
Mark
or
Steph
from Publications Management.
Caretaker Concoctions - August
Posted by Mark on August 15, 2019 - 4:12 pm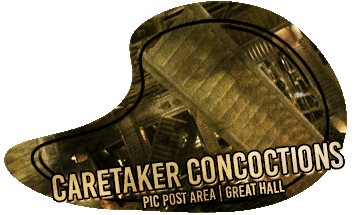 Colin has come across some students in the Great Hall who sound a bit panicked. Apparently, someone lost their photo! But it isn't very clear who lost it, or what photo it is. And no one seems to know where the photo is or how it got there. Colin offers his help and tries to solve the
Mystery of the lost photo!
PRIZES




Slughorn's Picture Set - Picture Frame Charm - Filch Portrait

Be sure to watch the
Student Hangout's Watch Thread
and our
Student Corkboard
for regular updates on the happenings inside the walls of Hogwarts.
The Grounds - August Update
Posted by Enyra on August 14, 2019 - 12:52 pm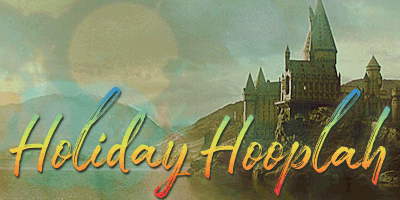 It's summer time. All the students are sitting at home, impatiently awaiting the start of the new school year. The corridors at Hogwarts are eerily silent, the Main Yard devoid of laughter and chatter. Right? Wrong! During this summer break, the Headmaster had something new in mind and invites you to join
the
event of the year in our new Roleplay contest
Holiday Hooplah
.
As always, don't forget to participate in our
Bi-Weekly Chat
, this month about sports, and fly by to congratulate our
Roleplayer of the Month
. Make sure to put our
Watch Thread
on watch in order to be notified of all the news of the Grounds right away.
Shopping Forums Update
Posted by Nicole Phelps on August 13, 2019 - 8:16 am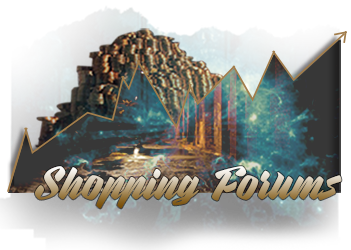 It's August, and that means new activities in the Shopping Forums! Check out our latest
Quarterly Raffle
to see just what's in store for this quarter.
Want to know where to start earning tickets? Then check out all of this month's activities below!
Obliterating Obstacles | Bond Street
Counting Coins | My First Time in Hogsmeade | Surveying the Stars
Daring Disguises
Posted by Brandon on August 11, 2019 - 3:12 pm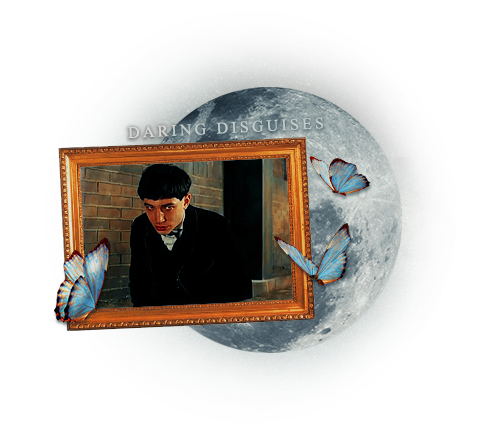 Ever imagined how Polyjuice could go wrong? Or have you found yourself enamored by the ability to change appearance at will? Perhaps you have an obsession with Animagi? If these topics enthrall you, then we have just the thing to sate your appetite. Come join the Hufflepuff Staff as we explore Human Transfiguration in
Daring Disguises
.
New Issue of The Quibbler!
Posted by Zoe on August 10, 2019 - 9:35 pm
Tiny this, tiny that, teeny tiny everything! Whether you love the newest 'miniature' phase or you hate it, the simple truth is that the world is now full of things for ants! (Of course, the ant-people
really
like this.) In hopes of gaining a larger - ... smaller? - audience this month, The Quibbler thought small. That's right! This month's theme is all about tiny things! Curious? Pick up your glasses and get ready to squint your way* through the
August issue of The Quibbler
!
If you have any questions, concerns, or comments about The Quibbler, please either visit
The Newsstand
or send an owl to
Zoe
.
* Don't worry, things are actually normal-sized. We're not
that
bonkers. ...
yet
.
HINT Forums :: August
Posted by duckie on August 9, 2019 - 8:01 am

Our thrill-seeking trio may not be gallivanting around the world right now, but it doesn't make their journey any less exciting. They're exploring a little closer to home, following clues left by Alex's sister. They now know there's a hidden treasure, but will they find it? What exactly
is
HINT Enterprises? Join us in our next installment of HINTory,
The Journey Begins
, to follow their adventure!
Wherever our trio goes, now, treasure lurks in the back of their mind. Is it shiny and gold, or is it a wealth of knowledge waiting to be discovered? Join
The Hunt
and make your way through a perilous maze with Alex, River, and Skye to find out!
Chapter 24: The Journey Begins | The Hunt


Written by Zimmy
Publications Management - August Update
Posted by Morgan93 on August 7, 2019 - 6:03 am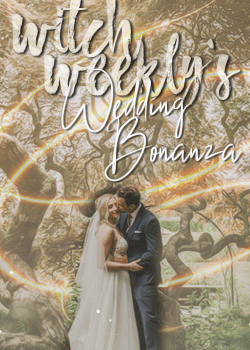 The dog days of summer are here, and The Newsstand is back with assorted fun covering everything from competitions to language to celebrations to liven up your August.
In June, the WWN brought us a broadcast all about contests and rivalries and in the wizarding world. Do you have strong thoughts on the Triwizard Tournament or have a unique technique for dueling? Come share your views in our
discussion on competitions
. Perhaps while discussing, you notice that everyone doesn't sound the same as you. The Quibbler took July's issue to write about accents, and we're continuing the theme in a
discussion
on all things pronunciations, articulations, and inflections.
Summer is also a time for weddings. Inspired by the July issue of The Daily Prophet, Witch Weekly has decided to publish a special on weddings. But they need your help to put it together to create the ultimate
Witch Weekly's Wedding Bonanza
. Participation in any of August's activities will earn you tickets to
The Newsstand Quarterly Raffle
.
Ever wished that you could be a Newsstand moderator?
Applications
are now open - but only until August 13th!

RPC August Update
Posted by Lucas on August 6, 2019 - 8:47 am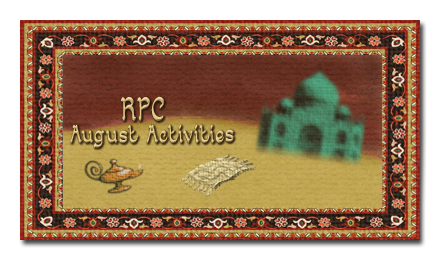 Take a magic carpet ride over to the RPC where August is all about the classic
Arabian Nights
tales!
Join the Roleplay of the Month,
You Ain't Never Had a Friend Like Me
, in which you'll roleplay meeting a free genie who will grant you one special wish. How you'll use it and what will ensure, that is up to you!
For this month's RP Freestyle,
A Whole New Tale
, you'll put your creativity to the test in rewriting a classic tale from
One Thousand and One Nights
to make it your own.
For the Lounge Contest,
Shining, Shimmering, Splendid
, you'll be designing your very own magic carpet or lamp and then taking it for a spin in your own short adventure.
Of course, all these tasks will net you tickets for the RPC's
Participation Raffle
and a chance to win fabulous prizes!

FOR MORE NEWS, CLICK HERE FOR THE NEWS ARCHIVE