News
Shopping Forums Update
Posted by Edmundus on October 13, 2019 - 5:30 pm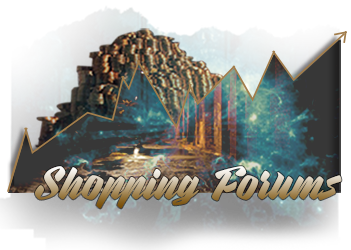 Don't let the new
Quarterly Raffle
bewitch you! But with so many wonderful prizes, it's sure going to try.
Start earning tickets for the Raffle with any of these activities, and house points besides! Watch the raffle thread to hear about new opportunities as they are revealed.
Muggle Trivia Night | Trouble on the Tracks
LU Activity | Daring Decor | Vanquishing the Vanished
The Grounds - October Update
Posted by ragna lokisdottir on October 12, 2019 - 2:45 pm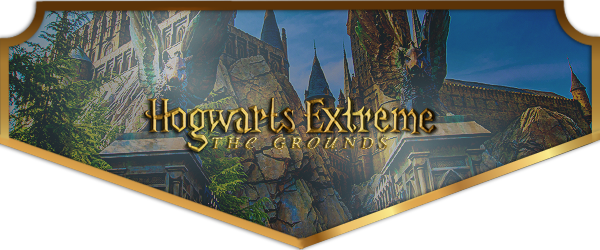 Have you ever wondered what the Trolley Witch and Train Conductor are up to when the Hogwarts Express isn't running? After all, you can't expect them to sit around all day doing nothing! But wait a minute ... it's Halloween. Which means that there is plenty of
Spooky Shenanigans
for them to get up to at Kings Cross Station!
Don't forget all the new activities that await you in the Grounds! Go and check out the
Grounds Activity Overview
for the list. You don't want to miss any of the shenanigans that are happening within the Grounds!
RPC TC Updates
Posted by Cait on October 9, 2019 - 9:23 am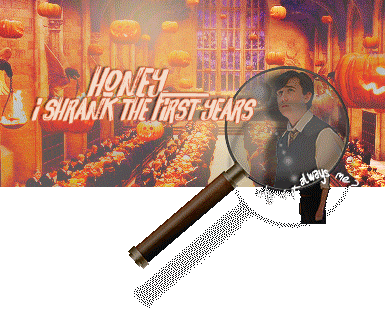 It's spooky season and that means candy galore! Well maybe. Only if you if appease the pumpkin king by joining the Teaching Center in their activities. First up is the glorious Halloween Feast, what better time of Halloween? Except you don't get any food just yet. This year you get to take an adventure into one of Hagrid's Giant Pumpkins in
Honey I Shrunk The First Years
. How cool is that? What's the first thing you plan on doing?
Next up with have grammar. Yeah yeah, we know. Who likes grammar? But just because it's Halloween and all we want is candy, that doesn't mean we can forget our lessons and act like ghouls. After you've stopped eating that candy corn, come look at
Grammar 101
to show how well you know your stuff. Once you've nailed that grammar stop by
The Write Stuff
roleplay and use your new skills, or freshly hone skills to the test.
Just when you're almost out of candy or off getting some more stop by and congratulate the newest student of the month,
Eimear
, and possibly give them some candy. It's the nice thing to do after all, right?
Written by Jamoki
Club Creation: Fixes & Upgrades
Posted by HPfanextrm on October 8, 2019 - 12:00 am
Hmm. Let's see if I still know how to do this..
Clubs
are home to many user-run communities on HEX, and after nearly two years, the ability to create new ones returns. Have you started one yet? Perhaps you're already president of a successful organization and dreamed of launching another. We have you covered there too.
Club Upgrades
have been reworked to entice the more successful union builders. The changes to Upgrade 2 and Upgrade 3 are as follows:
Upgrade 2 Requirements:
Have not been sent to Azkaban in 3 months
Have been using HEX for 6 months
Be a president in 1 club: this club must be at least 1 month old and consist of at least 25 members
Cost:

5,000,000 G
Upgrade 3 Requirements:
Have unlocked Upgrade 2
Have not been sent to Azkaban in 3 months
Have been using HEX for 6 months
Be a president in 2 clubs: each club must be at least 1 month old and consist of at least 35 members
Cost:

10,000,000 G
I'm sure many of you have zeroed in on the increase in cost for upgrades. After careful consideration, we determined these values would ensure that the best club leaders could afford to begin a second or third venture when weighed against the potential database space that additional clubs for every user on the site would occupy. However, to celebrate these long overdue fixes, I'm happy to announce that
Upgrade 2 will be 50% off, or

2,500,000 G

, until Monday, October 14 11:59 PM HEX time. During this time, the minimum 1 month old club requirement for Upgrade 2 will also be suspended.
In essence, if you start a club today and are able to attract 25 members, you can create your second club within 7 days at the reduced rate.
On a smaller, but still just as important note, all of your club-related user events will feature a new icon just like the one depicted at the top of this post. Thanks,
Julie! Additionally, you can now prevent your club from trending on the Clubs Directory page via your club's Settings.
Finally, did you know that there was more than one type of club? There are actually two,
Standard
and
Order
.
Standard
clubs are clubs as you've always known them.
Order
clubs are unique in that
you may only be a member of one Order club
. This was never well documented or communicated to users (even I wasn't aware of this distinction until I took on the project), so we linked a small note next to Club Type on a club's description page.
More than a dozen changes were made to Clubs behind the scenes to increase their security and avoid some (potentially) catastrophic incidents, but most of those won't actually be visible. Now go
start a new club!
Publications Management - October Update
Posted by Morgan93 on October 7, 2019 - 7:42 am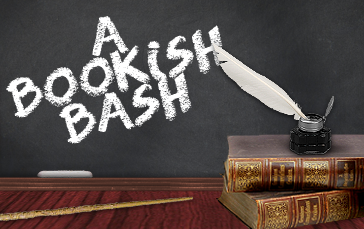 With another month, The Newsstand brings another set of assorted activities for your enjoyment. As much as we want you to participate, we also want you to take time for yourself to rejuvinate and refresh. Afterwards, come join our
discussion on self-care
, based on September's issue of The Daily Prophet.
In September, The Quibbler explored something that you're looking at right now: letters! But did they mean letters of the alphabet? Or mail letters? Tell us what you think in our
letter-themed discussion
.
The September WWN broadcast took a studious turn, focusing on education. But before returning to school, many students paid a visit to Diagon Alley. In our contest, your challenge is to take part in
A Bookish Bash
and create the next bestselling back-to-school item.
After you've made the rounds to all of our activities, check out
The Newsstand Quarterly Raffle
and its marvelous prizes, one of which might become yours!

RPC October Updates
Posted by Morgan93 on October 6, 2019 - 7:29 am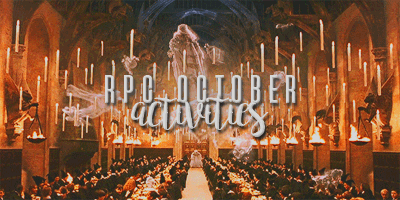 In the spirit of Halloween, the spooky, suspenseful, and mysterious have come to the RPC for October. First, a choice lies before you. However confusing or unclear the correct path may be,
Left or Right
, you must decide in the Roleplay of the Month.
If you choose to go to Hogwarts, then you may find that, in the Freestyle, the portraits are... up to something.
If Walls Could Stalk
, what mischievous and eerie antics would the painted subjects engage in?
The spookiness continues over in the Lounge, where we've got a puzzling mystery on our hands. Can you figure out what is causing the
Haunting at Hogwarts
?
Finally, partaking in any of these phantasmal events will earn you tickets to the
October Participation Raffle
and a chance at some ominous prizes.

HINT FORUMS :: OCTOBER UPDATE
Posted by Kasey on October 5, 2019 - 1:22 pm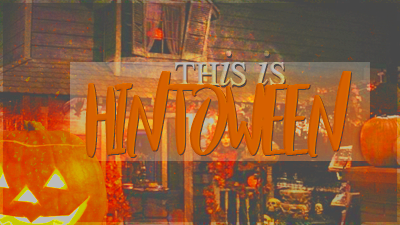 This month, we're giving you the chance to get creative with this holiday's theme, and put your own spin on one of the most iconic Halloween traditions - the haunted house! Come check out
This is HINToween
for your chance to win some awesome prizes, including 11,000 House Points!




Written by
Lauramarie
.
Social Media October Update
Posted by little fox on October 4, 2019 - 8:53 pm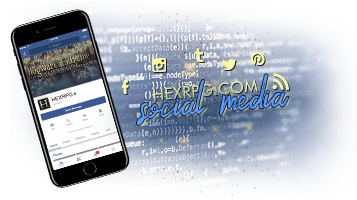 October is full of fun in the #SocialMediaForum! We've got prizes, house points, and galleons up for grabs!
Have you ever wanted to work on our official HEX social media platforms? Our applications are open! Check out
this thread
for all of the details!
There is a story for everything! Check out our October contest
Six-Word-Story
to see if you are up to this challenge!
If you see MalfoySwan fluttering about, congratulate them on being our latest Muse of the Month! Are you ready to talk MySpace? Discuss this and more in October's
Monthly Musings
!
October brings a new batch of monthly trivia questions! Scroll on over to
I Bet The Muggles Won't Know About This!
to test you knowledge on the Wizarding World!
Do you want a chance to win the fabulous Social Media exclusive item, House Points, or galleons? Visit our monthly raffle
Platform Ponderings
for all of the important details!
A new
Social Butterfly
is fluttering around HEX! Interested in earning this title and a snazzy new avatar? Check out the details
here
!
#SocialMediaofHEX #BeSocial





October Arts & Graphics Update
Posted by Julieexann on October 3, 2019 - 8:54 pm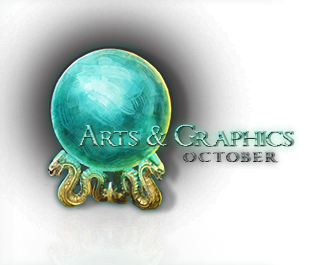 This month, A&G beckons you to join them in entering the Department of Mysteries. While we do know of six rooms devoted to mysteries, what others are there? Explore what these other rooms could be with our Graphics Challenge. You can also become an Unspeakable for the duration of our stay here, and that involves some ... experiments. However, one of these may have ended in a catastrophe, and we need you to submit a report about it in our Writing Challenge. Check out how our weekly prompts have a mysterious twist to them this month as well! Any good Unspeakable loves a good discussion, and this month our discussion focuses on prophecies.
Remember to check out our
Blotting the Parchment Incentive Program
for a chance to earn ink spots to win our exclusive Enchanted Paintbrush!
1st Place:

Time Turner Charm OR

Broken Prophecy + 3,000 House Points
2nd Place:

50,000 Galleons + 2,000 House Points
3rd Place:

25,000 Galleons + 1,000 House Points

Graphics Challenge || Writing Challenge || Weekly Prompts || AotM || Discussion



Magical Archives Update
Posted by Edmundus on October 2, 2019 - 6:12 am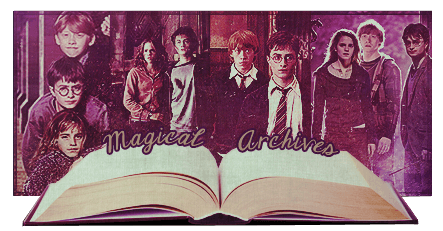 October brings chill air, pumpkin flavored everything, and a fresh batch of contests and activities from the Magical Archives! For example, you won't want to miss joining Hogwarts residents old and new as you celebrate Sir Nicholas'
Dearest Deathday Party
and help Ginny arrive for her first year after a bit of
Playful Packing
.
But there's plenty more to see and do. Check out the
Table of Contents
to see everything the Archives' forums have to offer. Participation in those might just bring you closer to winning the
Book of Records
.
Watch Thread || Table of Contents
FOR MORE NEWS, CLICK HERE FOR THE NEWS ARCHIVE