Staff Member
Hufflepuff Prefect
Doc's Whip Twin
Clints LHB
Hot Mess
Pickle Squad
Staff Member - Hufflepuff Prefect - Doc's Whip Twin - Clints LHB - Hot Mess - Pickle Squad
Pureblood
Hufflepuff
I love you, and you love me, and none of the rest of it matters.
3rd year Witch
Age: 28
Posts: 46,370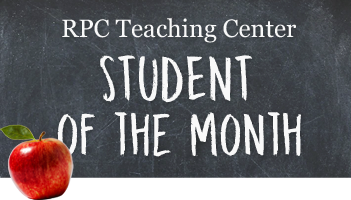 Starting in January, the Roleplay Teaching Center has a new incentive for you. Everyone who creates a thread that adheres to the Teaching Center Rules, or participates in [Discussion] or [Advice] threads will be considered for a new monthly award, Student of the Month. This award is a graphic for personal use (profile, donations signature, etc) and 1,000 House Points. This award will be handed out on the 1st of every month. You may only win this title once in a calendar year.

So, what exactly are we looking for? Be active in the Teaching Center forum! You will be considered if you create a thread in the TC or participate in an on-going thread. All threads should be in the form of a question, discussion, advice request or feedback request for roleplaying*. Questions and feedback will be answered by Teaching Center Mods and Mentors, whereas non-mod users may give advice and participate in discussions. Still not sure what we mean? Check out our featured discussion here.

*If there is already a question or discussion on the same topic, please post in that thread with your thoughts/questions rather than starting a duplicate thread.


[color=white]Edited by Cait
Staff Member
Hufflepuff Prefect
Doc's Whip Twin
Clints LHB
Hot Mess
Pickle Squad
Staff Member - Hufflepuff Prefect - Doc's Whip Twin - Clints LHB - Hot Mess - Pickle Squad
Pureblood
Hufflepuff
I love you, and you love me, and none of the rest of it matters.
3rd year Witch
Age: 28
Posts: 46,370
Broom Rider
Potion Brewer
Broom Rider - Potion Brewer
Mixed Blood
Gryffindor
The board is set, the pieces are moving. We come to it at last, the great battle of our time.
4th year Witch
Age: 77
Posts: 34,257
Congratulations GildaGlen for being May's Student of the Month.

Spirit of Gryffindor
Muggle Survivor
Spirit of Gryffindor - Muggle Survivor
Muggle Born
Gryffindor
My mum died on April, 1st! :'-( /// (Due to health problems I can't be much around atm. I'm sorry!)
1st year Witch
Age: 26
Posts: 6,350
Congratulations @GildaGlen! Well done!

Edited by Wanda35
Social Media Mod
Social Media Mod
Mixed Blood
Ravenclaw
🐺 🐉 Et nunc vigilia finivit 🦑 🦌
2nd year Witch
Age: 56
Posts: 12,362
Thank you @Twigs @Wanda35 I can't believe it!