Full Profile of motherof3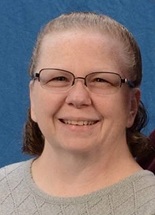 OWL ME >
Real Name:
Chris/Mom/Mum/MamaChris
Location:
Illinois, USA
Joined Staff:
August 13, 2008
Responsibilities:
Account/User Management (Multiples), RE Abuse, Behind the scenes
How do you spend your time when not on HEX?
When I'm not on Hex, I am usually running errands and doing things with and for my kids. I enjoy listening to Country music, photography, cooking, and traveling. I really enjoy trips back to my old stomping grounds in PA.
How did you become interested in Harry Potter?
My kids got me hooked on HP. I joined Hex to see what they were doing online, and decided I really enjoy the diverseness of the people.
Favorite movies:
Somewhere In Time (Romance), Jumpin' Jack Flash (Comedy), Anything Star Trek (I'm a SciFi geek)
Favorite food:
Pig
Fun Fact:
My job description is Stay-at-home-Mom. Since my kids are all grown, I'm probably home about 20% of the time.
---
<<< BACK TO ABOUT US