Full Profile of duckie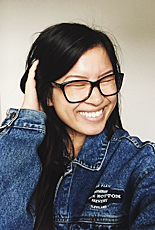 OWL ME >
Real Name:
Karli
Location:
Virginia, USA
Joined Staff:
September 26, 2015
Responsibilities:
HINT Forums, RE Abuse, Marketing, Magical Games & Sports, Social Media
How do you spend your time when not on HEX?
I'm like on 24/7 (minus time to sleep), but I would say that I am usually reading, writing, programming, or painting. Also galling out and about with Kam for her many photoshoot ideas. Oh and, eating or making food! I love food, especially duck.
How did you become interested in Harry Potter?
Uh.. this site... I had seen the movies and I wasn't a fan of them, but I heard about this site, joined and fell in love with it so, now I'm here. And now I'm a Harry Potter/Hogwarts fan.
Favorite movies:
Nightmare Before Christmas, Secretariat, Studio Ghibli movies, Interstellar
Favorite food:
Duck, Asian food, Fettuccine Alfredo, Peppermint, Dark Chocolate
Fun Fact:
I can wiggle my nose like a bunny.
---
<<< BACK TO ABOUT US