Full Profile of coffeeaddiction91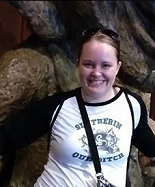 OWL ME >
Real Name:
Jen
Location:
Florida, USA
Join Date:
May 30, 2020
Responsibilities:
Fanfiction, Magical Archives, Mentors, Shopping Forums, Slytherin Skwad
How do you spend your time when not on HEX?
I run an Assisted Living Facility, which is basically my life right now. Alternatively, I'm playing Assassin's Creed, listening to music, or trying to find a new obsession. :)
How did you become interested in Harry Potter?
I grew up with the books. I stood in line at the midnight book release for 3-7, and saw all the movies in theaters on the first night.
Favorite movies:
The Phantom of the Opera
Favorite food:
Anything Curry!!
Fun Fact:
I would live at The Wizarding World of Harry Potter if I could <3
---
<<< BACK TO ABOUT US