Full Profile of Zee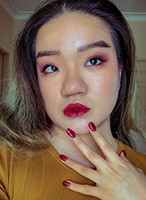 Zee
OFFLINE

OWL ME >
Real Name:
Zee
Location:
Malay Peninsula
Join Date:
March 25, 2023
Responsibilities:
Ministry of Magical Arts
How do you spend your time when not on HEX?
Graphics, reading, and makeup :look: I'm also a notorious hobby-hopper - I get really into one hobby for several weeks, then move on to something else for a while... Ones that keep reappearing in the endless loop are digital art, watercolour, video-editing, and various forms of handicrafts!
How did you become interested in Harry Potter?
The year: 2003. The location: a Barnes & Noble. A book cover with stone snakes and creepy eyes caught my attention: it was the Scholastic mass market paperback edition of Chamber Of Secrets. At this point in time, I didn't comprehend the concept of a book series, so I went into it knowing absolutely nothing about the HP universe, and was instantly hooked.
Favorite movies:
Clueless
Favorite food:
Bubble tea :P
Fun Fact:
I am annoyingly enthusiastic about Halloween
---
<<< BACK TO ABOUT US