Full Profile of SilentSyren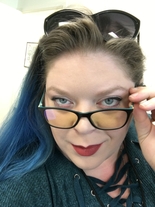 OWL ME >
Real Name:
Alex
Location:
Baltimore, MD, USA
Join Date:
October 26, 2018
Responsibilities:
Global Moderator, Magical Education Mod, Account Officer
How do you spend your time when not on HEX?
I love reading, playing Dungeons & Dragons, going to see live theater, and random adventures with my friends. I also perform in a drag / burlesque troupe!
How did you become interested in Harry Potter?
I read Prisoner of Azkaban first (I know) because my nephew was really into the books. I immediately had to go back and read from the beginning!
Favorite movies:
Noises Off!, But I'm A Cheerleader
Favorite food:
Sushi, Cheesecake, Tacos
Fun Fact:
I've attended my local Renaissance Faire once a year ever year since I was seven.
---
<<< BACK TO ABOUT US