Full Profile of Sara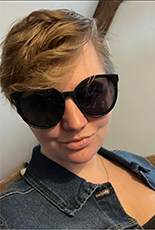 OWL ME >
Real Name:
Sara
Location:
Ohio
Join Date:
June 13, 2022
Responsibilities:
Marketing, Magical Archives, Slytherin SKWAD
How do you spend your time when not on HEX?
Wait, people spend time NOT on HEX? Kidding, when I'm not here, I'm usually working in digital marketing, playing The Sims 4, putting together a LEGO set or hanging out with family.
How did you become interested in Harry Potter?
A boy I had a crush on in 1st grade had the first book on the last day of school (it was apparently for his brother, but I didn't know about that) and I thought it was a great idea to read the book because if the cute boy liked it, I would. Well, I did like the book and became obsessed, though I never did talk to that boy...
Favorite movies:
The Emperor's New Groove
Favorite food:
Carbs
Fun Fact:
I have a selfie with Brendon Urie!
---
<<< BACK TO ABOUT US