Full Profile of Sammy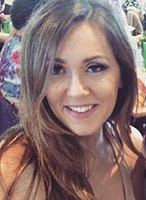 OWL ME >
Real Name:
Sammy
Location:
Scotland
Joined Staff:
February 8, 2017
Responsibilities:
Caretaking, Site Character Accounts, Marketing, Filch's Office,
How do you spend your time when not on HEX?
I don't know of this 'time not on Hex' you speak off? There can be times your not on Hex? Sleep-eat-Hex-repeat ;) (and maybe throw some RL work in there as well I suppose... ) In the last year I took up playing rugby. It's something I have become fully addicted to and LOVE it. When I'm not on HEX I'm playing rugby!
How did you become interested in Harry Potter?
I used to spend the summer at my grandparents house with a few of my cousins. My oldest cousin spent literally hours upon hours reading one of the HP books one summer and I remember being sad because I wanted her to play with me. So I ended up reading the book too just to see why she was choosing to read over play with me... and well... who'd have known that I was away to start one of the best journeys I've ever been on with a story!
Favorite movies:
The Wizard of Oz
Favorite food:
Fajitas
Fun Fact:
I have 72 first cousins. Very large family haha
---
<<< BACK TO ABOUT US