Full Profile of Ragna Lokisdottir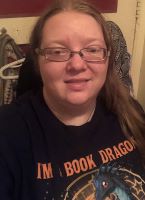 OWL ME >
Real Name:
Janelle
Location:
Saskatchewan, Canada
Joined Staff:
March 25, 2019
Responsibilities:
MoMA, Grounds, Daily Prophet (Editor)
How do you spend your time when not on HEX?
There is such a thing as not being on HEX? :look: Either with family, curled up with a book, scribbling ferociously in a notebook, or yelling at the TV while watching a hockey game. :lol: Oh! And I play World of Warcraft.
How did you become interested in Harry Potter?
A friend had recommended it as I've always love the fantasy genre and they thought I'd enjoy the book. Little did they know, they started a life-long obsession.
Favorite movies:
Inuyasha and the Swords of an Honorable Ruler
Favorite food:
Pizza. And gumbo. And beef sukiyaki.
Fun Fact:
I have been told that my perfect Harry Potter match is Charlie Weasley because of the teeny dragon obsession of mine.
---
<<< BACK TO ABOUT US