Full Profile of Nicole Phelps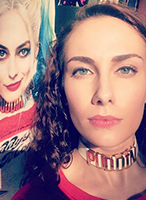 OWL ME >
Real Name:
Nikky
Location:
Georgia, USA
Join Date:
April 4, 2018
Responsibilities:
HINT, Shopping Forums, Site Character Accounts, Slytherin, SOUP
How do you spend your time when not on HEX?
Binge watching the latest Marvel Netflix series, while nerding out to every available Harley Quinn DC comics I can get my hands on. I also like to read about vampires and other classic monsters/creatures.
How did you become interested in Harry Potter?
When I was in fourth grade, I found the first Harry Potter book in my school's library. My mother had forbidden I read the series, so naturally I checked out the first three books from school so she'd never find out. Well, she did, but she became a fan, too, so my whole childhood has been influenced by the series. I grew up reading each book as they were released in the states, and quickly started role-playing and writing fan fic as I got older... Which eventually led me to HEX when I was 16 years old. The rest is history.
Favorite movies:
The Constant Gardener
Favorite food:
French fries
Fun Fact:
I typically say that I am left handed, but I'm really ambidextrous.
---
<<< BACK TO ABOUT US