Full Profile of Little Fox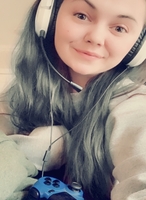 OWL ME >
Real Name:
Nichole
Location:
Texas
Join Date:
July 21, 2017
Responsibilities:
Social Media Admin, Ravie Asst. Admin, Caretaker
How do you spend your time when not on HEX?
Playing with birds, video games, playing D&D, reading, watching anime
How did you become interested in Harry Potter?
My parents bought me the first book and as soon as I read it, I was hooked.
Favorite movies:
Not a huge movie person..
Favorite food:
Is all food an appropriate answer?
Fun Fact:
I can identify birds by sound! I have no other skills.
---
<<< BACK TO ABOUT US