Full Profile of Jamoki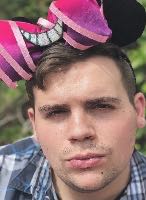 OWL ME >
Real Name:
Clint
Location:
Florida
Join Date:
November 4, 2019
Responsibilities:
Goblin City, Shopping Forums, Teaching Center
How do you spend your time when not on HEX?
I'm either cooking, taking care of my too many animals, or trying to sneak into Disney World. xD
How did you become interested in Harry Potter?
I remember how in fourth grade, I ended up getting the 5th book, and started to read it although I hadn't read any of them before that. Eventually I slowly started getting all the books and my then grandmother made it a tradition to go and see the movies together. Though after she moved away that stopped, my love for the series lived on.
Favorite movies:
Alice in Wonderland
Favorite food:
Sweets! Give me the diabetes.
Fun Fact:
All of my animals have Disney names! :O
---
<<< BACK TO ABOUT US